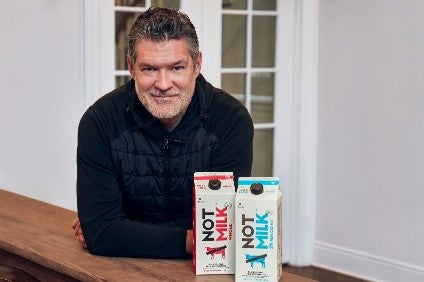 Chile plant-based business NotCo has made good on its ambition to enter the US with the launch of its alternative-milk product in Whole Foods Market stores across the country.
NotCo, founded in 2015 by technologists Matías Muchnick, Pablo Zamora and Karim Pichara, will "soon" open an office in New York to house its commercial operations in the US, alongside its existing presence in San Francisco for its "machine learning" team, according to a statement.
The US is the company's first international market outside of South America, where it has expanded into Brazil and Argentina, to add to its domestic operations in Chile. Former Danone executive Lucho Lopez-May heads up the North American side of the business as CEO.
NotCo's inaugural product was the plant-based alternative to mayonnaise, NotMayo, which has since been joined by NotMilk, NotBurger and NotIceCream. The business has been backed by a number of investors, including in the latest US$85m Series C round that featured Amazon founder Jeff Bezos and Twitter co-founder Biz Stone.
The company says its products are developed using artificial intelligence (AI) technology and machine-learning algorithms.
Co-founder and CEO Muchnick said: "When you think about the taste of milk, a human mind would never think that a combination of pineapple and cabbage would could recreate the taste of milk, but Giuseppe – our artificial intelligence [tool] – can and does. That's the power of introducing a new technology into an obsolete system: you're adding a whole new world of innovative possibilities that are good for us and the environment."
NotMilk is available in Whole Foods in two varieties, NotMilk Whole and NotMilk 2% Reduced Fat.
Parker Brody, senior global category manager at Whole Foods, added: "At Whole Foods Market, we are always looking for high-quality products for our customers, and there is a desire from our customers for a product like NotMilk that delivers the taste of dairy milk, but is plant-based. We are excited and honoured to be the first to introduce our customers to NotMilk in the US.