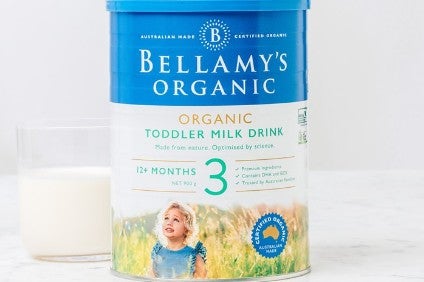 China Mengniu Dairy has made a AUD1.5bn (US$1.03bn) takeover bid for Australian organic infant-formula business Bellamy's Australia.
Mengniu, one of the largest dairy companies in Asia, is already present in infant formula through its majority ownership of Hong Kong-listed Yashili International Holdings.
Announcing the offer – which has been accepted by the Bellamy's board – Mengniu said the deal would "enable us to capture the huge potential in [the] organic infant milk formula and baby food categories in China and south-east Asia".
Jeffrey Minfang Lu, Mengniu's CEO, added: "This leading organic brand position and Bellamy's local operation and supply-chain are critical to Mengniu."
Mengniu, which generated revenue of CNY68.98bn (US$9.76bn) in 2018, generates more than 85% of its sales through liquid milk. As of 2018, just under 9% of Mengniu's revenue came from formula.
Bellamy's chair John Ho said Mengniu had put forward an "attractive all-cash transaction at a 59% premium" to the Australian's firm's "prevailing share price".
Andrew Cohen, the Bellamy's CEO, described Mengniu as "a preeminent dairy company in China and an ideal partner for our business". He added: "It offers a strong platform for distribution and success in China, and a foundation for growth in the organic dairy and food industry in Australia."
Mengniu, which counts Danone and European dairy cooperative Arla Foods among its shareholders, has made an offer that equates to 30 times what Bellamy said was its "reported normalised fiscal year 2019 EBITDA".
Bellamy's said the level of the bid "compares favourably to precedent transaction multiples" and represents a 54% "premium to the three-month volume-weighted average price" of its stock listed on the Australian Securities Exchange to 13 September 2019.
The deal remains subject to the backing of Bellamy's shareholders and to the approval of the Australian Foreign Investment Review Board (FIRB), which rules on overseas investment in the country.
Bellamy's, which listed in Australia in 2014, describes itself as an "organic brand business and not a primary producer". The company uses co-manufacturing but also makes some of its formula products at a blending and canning facility in Australia, Camperdown Powder, in which it owns a 90% stake.
Analysts at Citi, referring to the need to secure the green light from the FIRB, said, in a note quoted by The Financial Times: "While FIRB approval remains a key risk to the transaction and would be a key milestone given the current geopolitical climate, in our view Bellamy's arguably holds no strategic, primary producing assets that could potentially act as a roadblock."
In the 12 months to the end of June, Bellamy's most recent financial year, the company booked revenue of AUD266.2m, down 19% from a year earlier.
EBITDA fell 46% to AUD34.9m and net profit after tax slid 49.3% to AUD21.7, although "normalised" versions of the two metrics declined a little less markedly.
Attempts to improve the position of the Bellamy's business in China was central to the pressure on earnings. Bellamy's pointed to a doubling in its investment in "both marketing and China capability to better activate the brand and engage consumers".
The company said it had sought to "reset" its "trade and channel economics … to better incentivise trade partners, including the daigou, social networks and e-commerce platforms". Daigou is the name given to traders outside China that buy products for customers to be shipped back to the market.
In its results statement, Bellamy's said: "Many of these changes required short-term trade offs impacting the FY19 financial result, including a one-off write-down of legacy-label inventory and a deeper level of Q3 destocking and trade change-over than originally anticipated. This reset is now complete and the business enters FY20 with a clean balance sheet, positive consumer momentum and healthy trade dynamic."
The company's financial forecasts for the new fiscal year included net revenue growth of 10-15% "at an EBITDA margin consistent with last year".
Bellamy's had laid down a "medium-term" revenue target of AUD500m but, announcing its 2019 financial results last month, said that goal had been pushed back "beyond" the 2021 fiscal period. The company cited its continuing efforts to secure registration from Beijing for the Camperdown facility.