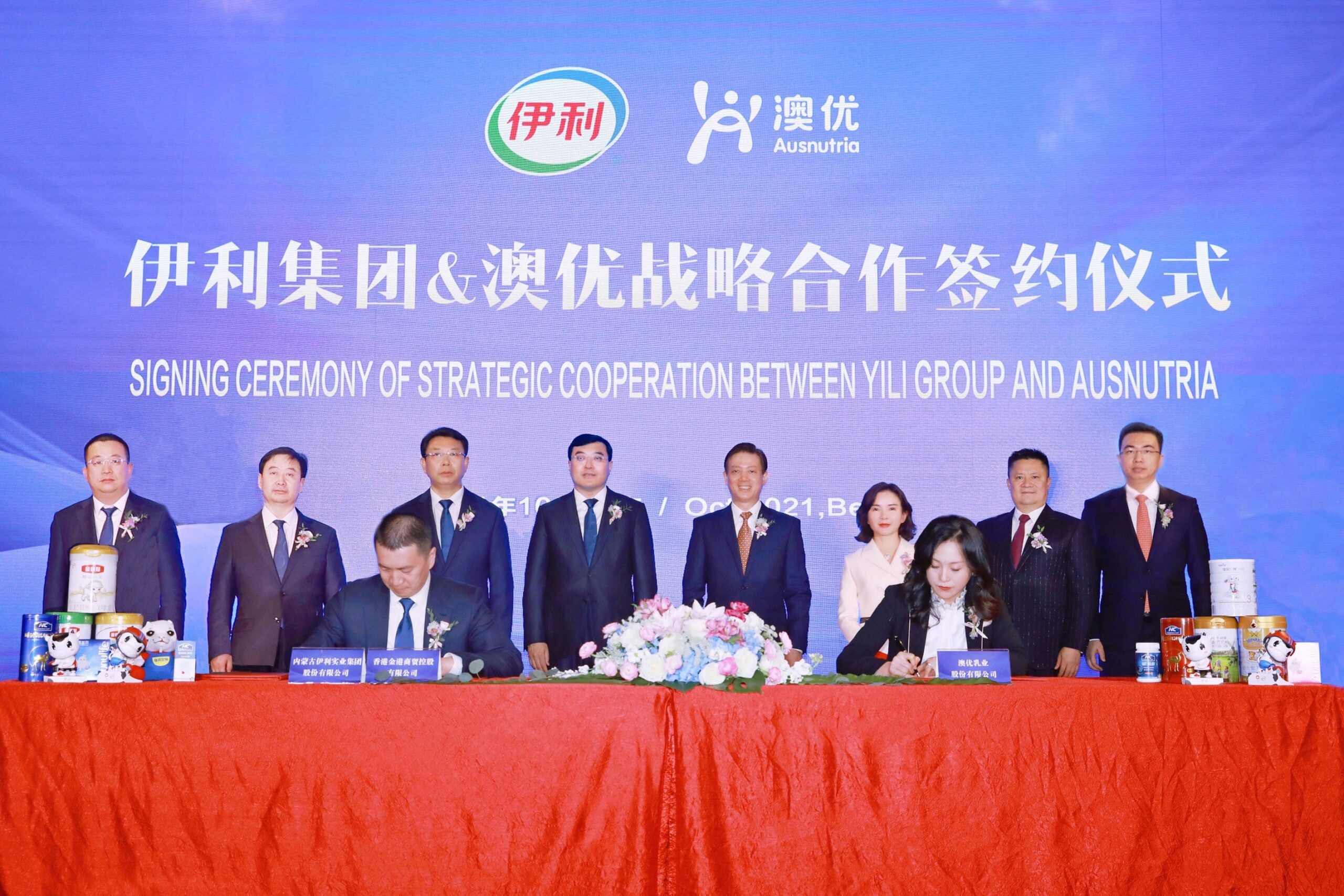 Inner Mongolia Yili Industrial Group Co. has struck a deal to buy just over 34% of Hong Kong-listed infant-formula supplier Ausnutria.
In a two-stage transaction, Yili, China's largest dairy company, is to acquire the stake through its Hong Kong Jingang Trade Holding Co. subsidiary.
One transaction will see Yili buy shares in Ausnutria from a group of investors amounting to 30.89% of the business. The selling shareholders are private-equity firm CITIC Agri Fund, pharmaceutical business Center Laboratories, its related company BioEngine Capital and Dutch Dairy Investments HK Limited, an investment vehicle of Ausnutria CEO Bartle van der Meer. Yili has agreed to pay the shareholders HKD5.34bn (US$686.6m) for the near-31% stake.
Ausnutria also plans to 90 million new shares to Yili at HKD10.06 per share. The company said it would use the HKD905.4m in proceeds "to further enhance [its] research and development, production, sales and distribution capabilities and optimise its financial structure".
Combined the two transactions will give Yili a 34.33% stake in Ausnutria. A shareholders' meeting will be convened to vote on the plans.
In a statement announcing the proposal, Ausnutria said it would maintain its Hong Kong listing and insisted "no significant changes will be made to Ausnutria's existing operations and business".
Yili said the move would "strengthen [its] leadership in milk formula and facilitate the company's entry into the nutrition products market".
Ausnutria has production facilities in China, Australia, New Zealand and the Netherlands. The company sells products based on goat milk and organic cows' milk. Its brands include Kabrita and Neolac. The group is also a private-label supplier.
In the six months to the end of June, Ausnutria generated revenue of CNY4.27bn (US$668m), up 10.7% on a year earlier. Revenue in China was CNY3.77bn, compared to CNY3.42bn in the opening six months of 2020. Group profit rose 45.3% to CNY594m.
It added: "Yili will help Ausnutria improve its long-term business development plans and strategies, fully utilise the synergies between two parties, thereby promoting the continuous and healthy growth of Ausnutria."
Yili said its investment was a response to China's policy of promoting the country's dairy industry.
"Driven by multiple favourable factors such as national policy support, rising healthcare demand of consumers and the booming development of the healthcare industry, the dairy industry and the health food industry have a bright future, especially in the nutrition and milk powder categories," Yili chairman and president Pan Gang said.
In the first half of the year, Yili booked revenue of CNY56.51bn, almost 19% higher than in the corresponding period of 2020. The company's net profit was up 42.5% at CNY5.32bn.
Center Laboratories, van der Meer and CITIC Agri Fund will remain shareholders in Ausnutria. Yan Weibin, Ausnutria's chairman, will also still be an investor.