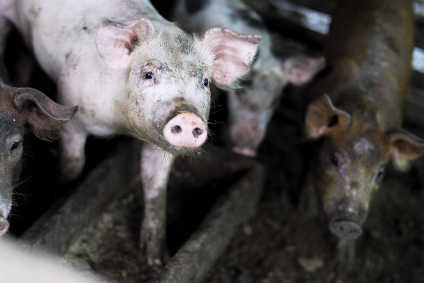 China's pork output fell by more than a fifth in 2019, according to newly-released data from Beijing's National Bureau of Statistics, illustrating the impact African swine fever had on domestic production last year.
In 2019, China produced 42.6 million tonnes of pork, a drop of 21.8% on a year earlier, data announced by the NBS on Friday showed.
The number of hogs slaughtered in 2019 slide 21.6% to 544.2 million head.
China, which is the world's largest producer and consumer of pork, has seen its herd decimated after the virus hit the country in 2018. Pork prices have soared and China has upped its imports of the foodstuff, presenting opportunities for exporters.
According to the NBS, China's pig herd stood at 310.4m head in 2019, a 27.5% decrease from a year earlier.
In November, analysts at Rabobank, the Netherlands-based financial services group, reported how retail prices for pork had jumped 78% in September month-on-month. Beijing, the analysts said, had started to efforts to rebuild China's pig herd with "sizeable" economic incentives.
The NBS in November said China's pig herd was 306.8m head in the nine months to the end of September, so the year-end figure illustrates there had been an increase in the final quarter of 2019.
China's total annual output of pork, beef, sheep and poultry was 76.5 million tonnes, a decrease of 10.2% on 2018. Beef production rose 3.6% to 6.7m tonnes, while the country saw its poultry output increase 12.3% to 22.4m tonnes.