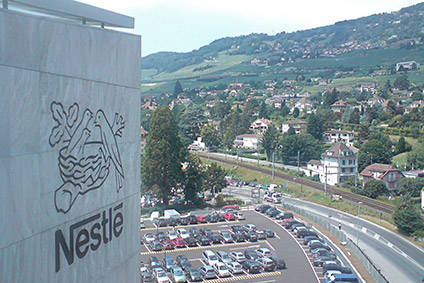 Nestlé today (24 July) reported a set of half-year results that drew a positive response from the market but revealed some challenges in what the company described as a "soft" food sector in China.
In the second quarter of 2019, the world's largest food maker saw its quarterly organic sales rise by the fastest rate for three years, helping it meet analyst expectations for the first half of the year as a whole. Greater-than-expected increases in underlying first-half operating profit margins and earnings per share also contributed to Nestlé's share price closing the day up more than 1.7% at CHF104.04.
However, whereas Nestlé's organic sales growth accelerated in two of geographic "zones" – in the combined Europe, Middle East and north Africa unit, as well as in the Americas – during the second quarter compared to the first three months of 2019, the rate of growth in the third region – Asia, Oceania and Africa – matched the first quarter.
Nestlé CFO François-Xavier Roger said the "real internal growth" – that is sales growth after the impact of pricing is removed from organic growth – from the Asia, Oceania and Africa division slowed during the second quarter, a performance "mainly due to Pakistan and China".
In Pakistan, Nestlé's business was affected falling milk prices. In China, Roger described a mixed performance and muted trading conditions. Nestlé's organic sales in China "slowed to low single-digit growth", he said.
"China saw softer growth in some categories, but reported good growth in culinary and ice cream. This is consistent with softer food and beverage category growth, which reached the lowest level in a decade according to Nielsen and Kantar," Roger explained.
It was the performance in China that prompted questions from analysts on a call to discuss Nestlé's results.
Asked to provide more detail on why the market in China was soft, CEO Mark Schneider said: "The consumer goods area has been very muted in the first half. I think that's a picture that's not just reflected here by our performance but also some other companies'," he said. "We see that in particular in the mainstream areas."
Schneider pointed to two of Nestlé's businesses in China. "That includes, for example, Hsu Fu Chi and Yinlu. We've seen also some pressure in confectionery, so Hsu Fu Chi again was the problem here," he said. We're working very hard to improve and as always, long term, we're quite bullish on this key market."
Schneider said Hsu FU Chi, the confectionery company Nestlé acquired in 2011, had, like other businesses, suffered from a "disappointing" Chinese New Year selling season.
"Clearly, the troubles here go back also to the Chinese New Year season, beginning of the year that, I think, broad based in the industry has been a bit of a disappointment. And this is, of course, where confectionery and some of the Hsu Fu Chi articles in particular are hit. I think we're working very hard when it comes to offering new product varieties, and so overall, I think there's a lot of work underway to improve the situation."
Look out for further coverage of Nestlé's half-year results on Monday, outlining what you need to know from the recent performance of the world's largest food maker and its thoughts on trading in the next couple of quarters.