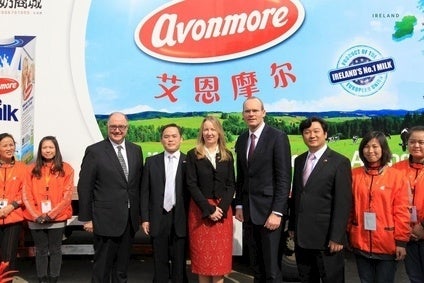 Glanbia has launched Avonmore UHT milk in China as the company starts exporting from a new, dedicated plant in Ireland.
The group is also shipping UHT milk to France and to markets in the Mediterranean and north Africa, six months after opening its facility in Monaghan in Ireland.
In China, the milk is on sale in Shanghai. Glanbia has teamed up with MilkMore, a local distributor and retailer of dairy products based in the city.
Avonmore will be sold in supermarkets but also through milk shops – small stores that only sell fresh and long life milk – as well as on TV shopping channels and through online retail platforms.
In France, Glanbia is selling UHT milk under the Premier brand. Avonmore milk is on shelves in Malta and Libya.
The launch in China is Glanbia's latest move in a market in which it supplies ingredients to local customers.
In 2012, Glanbia launched Avonol, a whey protein concentrate powder with protein levels of up to 35%, for the Chinese infant formula market.
Since 2008, Glanbia has also had a premix manufacturing facility in Suzhou where it manufactures a range of vitamins, minerals and nutraceuticals for industry customers in China.
Last week, fellow Irish dairy group The Irish Dairy Board announced plans to launch a liquid milk product into China under its Kerrygold brand.