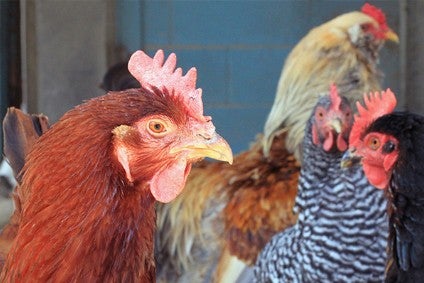 China is imposing temporary anti-dumping duties on imports of chicken products from Brazil in a further blow to major meat processors JBS and BRF.
After a ten-month investigation found surging chicken imports from Brazil were damaging the local industry, a preliminary ruling by China's Ministry of Commerce will see charges levied on incoming shipments from 9 June, according to a Bloomberg report.
Chinese importers will now have to pay a deposit of 38.4% on their chicken purchases to the country's customs department, while an 18.8% payment will be applied to JBS and 25.3% to BRF.
The measures will further hurt Brazilian producers after a national truckers' strike led companies such as BRF to cull millions of chickens as deliveries of animal feed were disrupted and live birds deteriorated on the roadside due to blockades.
Brazilian meat processors are also still suffering the fallout from last year's probe into alleged bribes paid to government inspectors to overlook unsanitary conditions and practices, a case that became known as Carne Fraca. And in April, the European Commission banned meat imports, mostly of chicken, from 20 of Brazil's producers, including 12 plants operated by BRF.
According to Chinese customs data cited by Bloomberg, China's imports of frozen chicken and associated products from Brazil fell 22% in 2017 to 382,052 metric tons, valued at US$876m.
Meanwhile, Reuters reported that China's Ministry of Commerce has said the local industry had been "substantially damaged" by shipments from Brazil between 2013 and 2016, when the country supplied more than half of China's imports of chicken meat.
The news agency quoted a source at the Brazilian embassy in Beijing as saying the move was "very disappointing".
"We are not convinced that there is dumping or injury or a causal link," the source said.