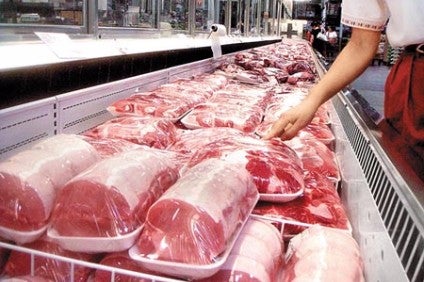 China has slapped tariffs on 128 US products, including imports of pork and certain fruits, in retaliation for President Donald Trump's levies on Chinese steel and aluminium.
The tariffs were announced by the government-controlled People's Daily newspaper on Sunday and came into effect yesterday (2 April).
In March, Trump imposed a 25% tariff on foreign-made steel and 10% for aluminium in response to a national security investigation he initiated last spring, but then waived those levies on certain countries but not China.
The US move was part of the Administration's second annual trade policy agenda, emphasising "aggressive" enforcement of US trade laws and limiting the role of the World Trade Organization.
China then countered those measures by saying it would impose a 15% tariff on American imports, which it said in March would include fresh fruit, dried fruit and nut products, wine, ginseng and steel pipes. The Asian country said then that further import duties of 25% would follow in a second-round of levies including pork, processed products and recycled aluminium.
Back in March, China's Ministry of Commerce explained its response to Trump's levies on Chinese goods: "The United States practise of restricting the import of products based on national security has severely damaged the multilateral trade system represented by the WTO and seriously interfered with the normal international trade order."
America's National Pork Producers Council warned last month that levies on US goods would "significantly impact" rural businesses. It stated that US pork producers exported US$1.1bn of product to China in 2017, ranking the country third in terms of value for American pork shipments overseas.
On Monday, China urged the US to revoke protectionist measures that violate WTO rules, the Xinhua News Agency reported.
"The trade measures that target just a small number of countries abuse the security exception clause of WTO rules and go against the principle of non-discrimination in multilateral trade, the news agency quoted the Ministry of Commerce as saying.
Trump, meanwhile, suspended tariffs on imports of steel and aluminium from the European Union, Argentina, Australia, Brazil, Canada, Mexico and South Korea until 1 May. China, however, was not included.
Still, China on Monday followed through with its own measures, which includes a 15% tariff on 120 items from the US including fruit, and a 25% tariff on eight items including pork, Xinhua said.
The Ministry of Commerce said in a statement: "Cooperation is the only valid option for China and the United States," according to the Chinese news agency, which added that China is calling for dialogue and consultation to address the concerns of both sides and realise common development, and work to prevent more harm to the broader picture of China-US cooperation.