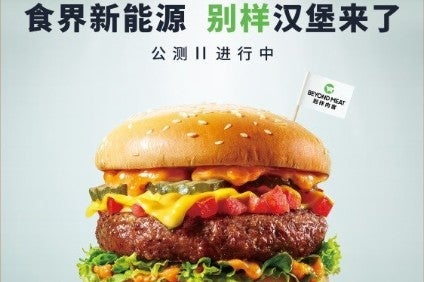 China is said to be keen to encourage foreign investment in its meat and faux-meat industries, a report from news agency Reuters has suggested.
It said China's state planner – the National Development and Reform Commission – is seeking outside help to develop its livestock and poultry breeding programme and to create plant-based meat substitutes.
China is attempting to deal with meat shortages created by African swine fever which has resulted in the decimation of its pig herd.
According to Reuters, China's pig producers have "ramped up imports of foreign breeding pigs to rebuild a sow herd that had fallen as much as 60%". In the meantime, meat businesses in South America and Europe have seen a huge increase in exports to China as it seeks to fill the void.
International food businesses are also moving in to develop and sell plant-based protein products to the China market as a meat alternative.
At the start of this month, US plant-based protein company Beyond Meat announced it was about to make its debut on Chinese supermarket shelves.
The meat-free burger, sausage and mince products manufacturer is selling its patties in mainland China through local e-commerce giant Alibaba's Freshippo supermarkets.
Sales of its Beyond Burger commenced at 50 stores in Shanghai, with plans to expand to 48 more stores in Beijing and Hangzhou in September.
In May, Switzerland-based food giant Nestlé outlined capex plans for China which included the setting up of its first facility in the country for plant-based products.
US agri-food heavyweight Cargill said in April it was looking to expand its plant-based food offering in China following a successful trial of alternative-meat products there with fast-food chain KFC.
just-food interview archive, June 2020: "This industry is so nascent" – Dao Foods investor Tao Zhang on taking plant-based meat mainstream in China