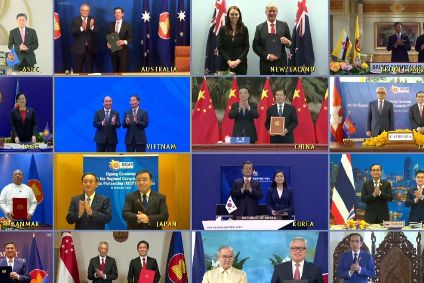 Fifteen countries in the Asia-Pacific region have agreed what is regarded as the world's largest-ever free trade deal accounting for 30% of global gross domestic product.
The Regional Comprehensive Economic Partnership (RCEP) was signed off at the weekend between the ten countries in the Association of Southeast Asian nations (ASEAN) – Brunei, Cambodia, Indonesia, Lao, Malaysia, Myanmar, the Philippines, Singapore, Thailand and Vietnam – along with Australia, China, Japan, South Korea and New Zealand.
India was absent from the agreement after pulling out from talks last year, although the door is still open to join. The US was also omitted after President Donald Trump withdrew from another trade deal in the Asia Pacific, the Trans-Pacific Partnership, or TPP, last year. But that could now change under Joe Biden.
At the heart of the agreement is the reduction or elimination of customs tariffs aimed at boosting trade between all parties involved but it also covers the services sector. The agreement still needs to be ratified by at least six ASEAN members and three countries outside the trading bloc. Bloomberg reported Singapore trade minister Chan Chun Sing as saying the city-state plans to approve the deal in "the next few months".
Nguyen Xuan Phuc, Vietnam's prime minister and the current ASEAN chair was quoted by Reuters as saying: "RCEP will soon be ratified by signatory countries and take effect, contributing to the post-Covid pandemic economic recovery."
David Kleimann, a trade expert and visiting research fellow at the Georgetown University Law Center in Washington Tweeted that RECEP has created "much furore" because it is "China-led".
"In essence, RCEP should be welcomed, not feared by competitors in Europe and Asia", Kleimann said on the social-media platform.
RECEP expands on the coverage of the so-called ASEAN Plus One free trade deal with China and "takes into consideration changing and emerging trade realities, including the age of electronic commerce, the potential of micro, small and medium enterprises, the deepening regional value chain, and the complexity of market competition".
A statement announcing the deal read: "The objective of the RCEP Agreement is to establish a modern, comprehensive, high quality, and mutually beneficial economic partnership that will facilitate the expansion of regional trade and investment and contribute to global economic growth and development."
RECEP has specific provisions for trade in goods between the countries along with rules of origin, customs procedures and trade facilitation, sanitary and phytosanitary measures, standards, technical regulations and conformity assessment procedures.
"Appropriate forms of flexibility and provisions" have been applied for the least developed countries such as Cambodia, Lao, Myanmar, and Vietnam.
Australian Prime Minister Scott Morrison said the agreement, which has been around eight years in the making, is a welcome boost for all parties in light of the pandemic.
"Our trade policy is all about supporting Australian jobs, boosting export opportunities and ensuring an open region with even stronger supply chains. This agreement covers the fastest-growing region in the world and, as RCEP economies continue to develop and their middle classes grow, it will open up new doors for Australian farmers, businesses and investors."
New Zealand said its exporters will benefit from the agreement on certain goods shipped to Indonesia, including sheepmeat, beef, fish, milk, cheese and fruit and vegetables.
In Japan's case, the country has won concessions whereby tariffs will remain on imports of rice, wheat, beef, pork and dairy products.
Singapore's Chan was reported as saying by Bloomberg: "The agreement will make exports of participating countries more competitive and create an integrated market for China and regional nations."
Free Whitepaper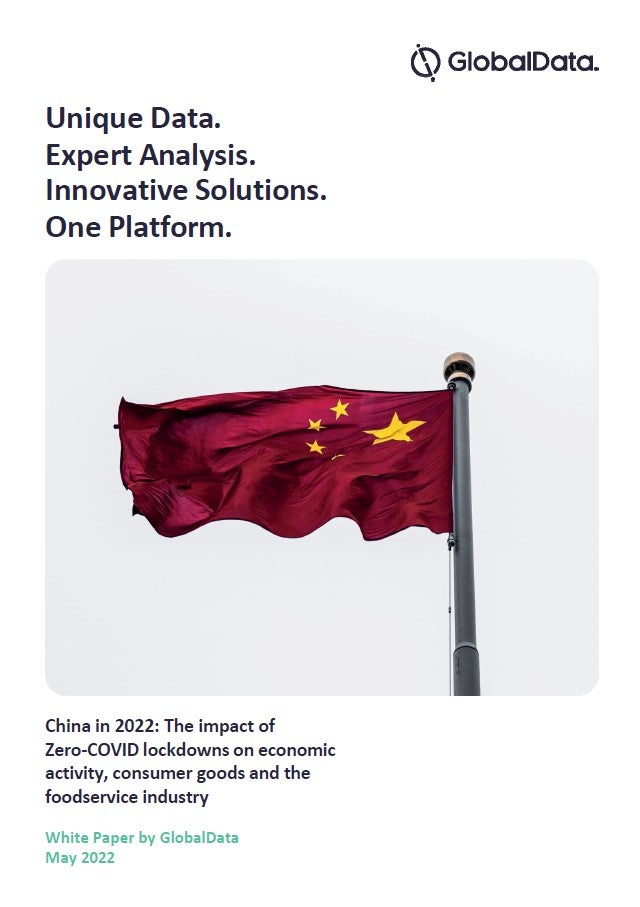 What is the impact of China's Zero-COVID lockdowns on economic activity, consumer goods and the foodservice industry?
While wanting to protect the country from being overwhelmed by Omicron, China's adherence to a Zero-COVID policy is resulting in a significant economic downturn. COVID outbreaks in Shanghai, Beijing and many other Chinese cities will impact 2022's economic growth as consumers and businesses experience rolling lockdowns, leading to a slowdown in domestic and international supply chains. China's Zero-COVID policy is having a demonstrable impact on consumer-facing industries. Access GlobalData's new whitepaper, 
China in 2022: the impact of China's Zero-COVID lockdowns on economic activity, consumer goods and the foodservice industry
, to examine the current situation in Shanghai and other cities in China, to better understand the worst-affected industry sectors, foodservice in particular, and to explore potential growth opportunities as China recovers. The white paper covers:
Which multinational companies have been affected?
What is the effect of lockdowns on foodservice?
What is the effect of lockdowns on Chinese ports?
Spotlight on Shanghai: what is the situation there?
How have Chinese consumers reacted?
How might the Chinese government react?
What are the potential growth opportunities?
by GlobalData