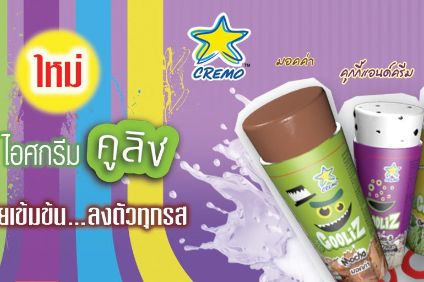 Yili, the China-based dairy company, has bought Chomthana, Thailand's largest ice cream company, for US$6.4m.
Yili – or Inner Mongolia Yili Industrial Group Co to give it its full name – said the deal will help it "gather global energy". It added the acquisition of Chomthana will "further enhance Yili's performance and deepen the win-win cooperation of the global dairy industry".
Thailand is the second largest ice cream market in south-east Asia after Indonesia. Yili started selling its Joyday ice cream brand in Indonesia in October.
Soh Chee Yong, president of Chomthana, said: "Through many contacts and talks, we believe that Yili is a respectable company. Since its creation, Yili has been adhering to the quality belief and has been renowned worldwide for its continuous internationalisation and innovation."
Chomthana, established in 1978, is both an ice cream manufacturer and a frozen food distributor. It sells its products – including the Cremo ice cream brand – domestically and in 13 foreign markets.
Yili has bought 96.4% of Chomthana via its subsidiary Jingang Holdings.
In recent years, Yili has accelerated its overseas investment programme. In November 2014, Yill unveiled a production base in New Zealand to engage in scientific research in the dairy industry.
In  2017, the second phase of the project was unveiled in the shape of a facility used for the processing of milk protein, milk powder and UHT milk.
In August, Yili was said to be eyeing an investment in Pakistan's Fauji Foods.