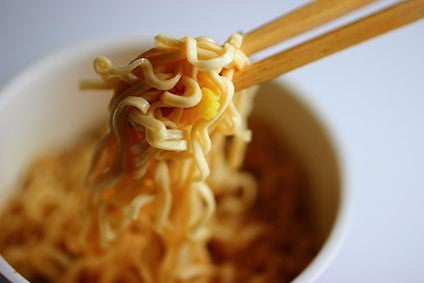 Tingyi Holding Corp., the Hong Kong-listed food and beverage group, today (27 March) booked a 31% slump in annual profits as a result of rising costs and a wider industry facing "the change in trends in domestic demand".
The manufacturer of the Master Kong instant noodles brand said net profit was US$176m compared to $256m in 2015. Tingyi posted an EBITDA of $996m, versus $1.04bn.
The company's profits were hit in part by lower sales. Tingyi's revenue fell 8% to US$8.37bn.
Profits from instant noodles, Tingyi's second-largest business by sales, fell by 36% to $175.4m. The unit's revenue dropped 10.3% to $3.23bn.
Tingyi said prices of raw materials, such as palm oil and sugar, "continued to increase" in 2016, adding they were "anticipated to maintain an upward trend in the near term".
Chairman Wei Ing-Chou said: "Although China's economy maintained steady growth in the first half of 2016, its food and beverage industry was under a certain degree of pressure in the second half of the year arising from increasing costs of raw materials in both domestic and international markets and the change in trends in domestic demand."
Wei said the group would continue with its innovation programme "to work to offer a wide range of healthy and high quality products to customers".