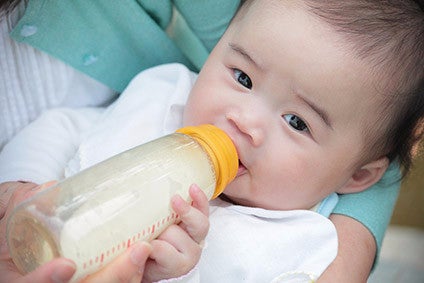 Synutra, the Chinese, US-listed infant formula producer, has lowered its forecast for annual profits amid a delay to a project in France, weak global raw-milk prices and the impact of exchange rates.
Announcing its first-quarter results yesterday (9 August), Synutra said expects its net income in the year to the end of March 2017 to be US$15-20m, down from its forecast in June of $25-30m.
A factor in the downgrade is a delay in the start of Synutra's project to manufacture infant formula in France for sale in China amid issues with equipment. In June, Synutra had expected the plant to be up and running in July and to start importing the French-made formula into China in the second quarter of its financial year. Synutra said yesterday it now expects the project to be fully operational in September with the formula on sale in China in its financial third quarter.
"The company remains optimistic about its prospects for continued strong growth above the industry average, once its French facility is fully operational," Synutra said.
The group said the French project will also mean it becomes a net seller of raw milk powder, rather than a buyer. It reflected the recent recovery of whole milk prices on the global market turned out to be a temporary, which it said would be another factor dampening its earnings. Synutra also pointed out its products are denominated in Chinese renminbi, while the bulk majority of its production costs are based in US dollars or euros, which has hit the company's profitability.
In the first quarter, which ran until the end of June, Synutra ran up a net loss of US$199,000, compared to a profit of $405,000 a year earlier. Synutra's income from operations stood at $4.9m, versus $12.5m in the first quarter of the 2015/2016 financial year.
Net sales were down 5.4% at $77.9m. The net sales from Synutra's core nutritional food division, which mainly includes branded powdered formula products, inched up 0.9%. Synutra pointed to the recent launch of UHT liquid milk products under the DutchCow brand and an 8.8% increase in milk formula sales by volume.