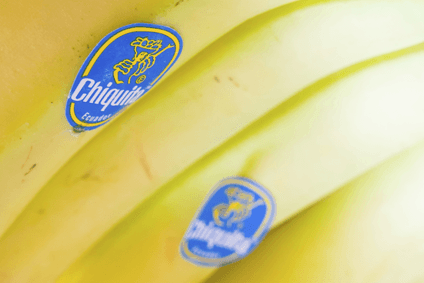 Takeover target Chiquita Brands International has said it expects to book higher third-quarter sales and comparable earnings.
In a preliminary results release, Chiquita said it anticipates third-quarter sales will rise to US$739m, up from $723m a year earlier.
The US-based fruit firm added comparable operating income is expected to total $10-12m, up from $2m last year. Adjusted EBITDA is likely to fall in a $25-27m range, compared to $18m in the third quarter of 2013, the company added.
The group, which has rejected a takeover bid in favour of pursuing a merger with Fyffes, took the opportunity to stress the benefits it sees coming out of its proposed merger with the Irish banana group.
The details of the proposed transaction were revised after a rival bid for Chiquita was put forward by Brazilian juice maker Cutrale Group and investment vehicle Safra Group. An improved exchange ratio would see Chiquita investors take control of 59.6% of the enlarged ChiquitaFyffes.
Chiquita turned down the offer from Cutrale and Safra in August but have since allowed the bidders to conduct due diligence.
The ChiquitaFyffes tie-up received clearance from European anti-trust authorities earlier this month. Chiquita shareholders are due to vote on the deal on 24 October.