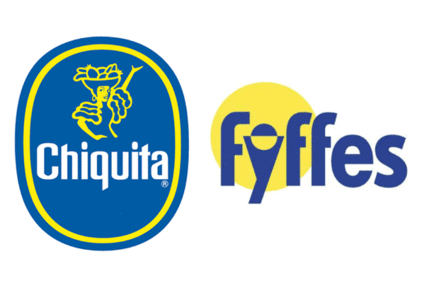 Investors in Chiquita Brands International today (24 October) voted against the US produce giant's plan to merge with Ireland-based peer Fyffes .
Shareholders in Chiquita – which is the subject of takeover interest from Brazilian juice maker Cutrale Group and investment firm Safra Group – rejected the proposed deal at a meeting in the US.
Chiquita said it and Fyffes would halt their bid to create what would have been the world's largest banana supplier.
In a statement, Chiquita said it would now hold talks with Cutrale and Safra over their US$14.50-a-share offer for the business, which was tabled yesterday after two previous bids were rejected.
"Given today's results, we have determined to terminate the agreement with Fyffes and to engage with Cutrale [and] Safra regarding [their] revised offer. While we are convinced they would have been a strong merger partner, we will now go forward as competitors. We would also like to express our gratitude to Chiquita's employees for their hard work and dedication on behalf of Chiquita and our customers," Chiquita president and CEO Edward Lonergan said.
When Chiquita and Fyffes announced their desire to merge in March, the companies argued the enlarged business would benefit from an extended geographic presence, a wider product portfolio and a broader supply base.
In August, Cutrale and Safra made a $13-a-share bid for Chiquita, which was rejected. Chiquita's decision to turn down the offer and press ahead with plans to merge with Fyffes was called into question by some in the investment community.
Chiquita decided to allow Cutrale and Safra to conduct due diligence on the business and it and Fyffes pushed back planned shareholder votes on their proposed merger. In the meantime, Chiquita and Fyffes revised the terms of their planned deal and said shareholders in the US group would receive a larger chunk of the combined business.
Nine days ago, Cutrale and Safra upped their offer to $14 a share, which Chiquita turned down. Some Wall Street analysts praised Chiquita's decision. Twenty-four hours before Chiquita shareholders were to meet to vote on the combination with Fyffes, Cutrale and Safra increased their bid again, this time to $14.50. That offer is now the basis of discussions between Chiquita and the two Brazilian bidders.
Should Chiquita enter into a transaction with Cutrale and Safra or another company, Fyffes is entitled to a termination fee of 3.5% of the value of the US group's share capital on the day before a deal is announced.
Fyffes executive chairman David McCann said: "Fyffes remains the leading European banana company with turnover in excess of EUR1bn and a long and successful history of growth. Fyffes management team has a proven superior track record of delivering shareholder value, as demonstrated by our consistently strong results in recent years and solid balance sheet. We are confident Fyffes will remain at the forefront of the global produce industry."
Shares in Chiquita were up 3.85% at $14.26 at 09:54 ET today. Shares in Fyffes were down 6.97% at EUR0.92.