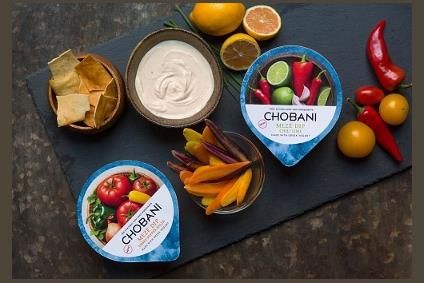 Chobani, the US-based Greek-style yoghurt producer, is widening the range of products it sells domestically with the launch of yoghurt drinks and dips.
The company's Drink Chobani beverages will go on sale in July. The range includes mixed berry and strawberry banana. The drinks are sold in ten-ounce bottles.
Chobani Meze Dips will be launched in June. Four flavours, including roasted red pepper and chilli lime, have been developed. The dips are also sold in ten-ounce containers.
The group said the launches would see its namesake brand "move into new areas of the supermarket and drive yoghurt consumption throughout the day".
Last month, Chobani said it would roll out a range of dips in Australia.
Domestically, Chobani has been enjoying share gains in its core Greek yoghurt category. However, with growth rates in that segment slowing, Chobani is looking to bolster its US sales through strategies including innovation and targeting alternative channels.
The company for example has acquired a production line to supply foodservice customers in the US. Earlier this month, just-food reported on Chobani securing a contract to supply Greek yoghurt for products McDonald's is selling in outlets in southern California.