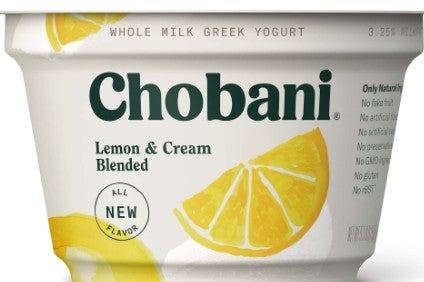 Chobani has seen private-equity firm TPG exit its shareholder roster, with the US-based dairy business announcing fresh investment from Canadian pension fund Healthcare of Ontario Pension Plan.
Financial details were not disclosed but HOOPP has taken a minority stake in the privately-owned Chobani. The New York Times reported HOOPP's stake in Chobani would stand at 20%.
The investment was facilitated through Chobani's discussions with potential investors to buy back warrants from TPG by issuing equity to HOOPP.
TPG invested in Chobani in 2014 amid a period of expansion at the dairy firm, which led the growth of the Greek-style yogurt category in the US in the second half of the noughties and the early part of this decade.
Chobani agreed to a deal that saw TPG lend the business US$750m and receive warrants that reportedly could have been converted into 25-35% of the yogurt maker.
Hamdi Ulukaya, Chobani's founder and CEO, said: "This is a minority investment but most importantly it's a symbiotic partnership. We have the same DNA. I've loved getting to know Jim and the entire HOOPP team in recent months, sharing ideas about how business makes a difference for their people, their communities and their investors."
The structure of the deal will give Ulukaya and Chobani's employees an opportunity to increase their equity position by as much as 10%, bringing the total equity controlled by them to as much as 90%. In 2016, Ulukaya gave away about 10% of Chobani to its staff.
Jim Walker, the managing partner at HOOPP Capital Partners, the fund's investment arm, said: "Chobani is truly one of those unique companies and investment opportunities that seems to defy all odds: coming out of nowhere, lifting up its communities and driving exceptional long-term value and performance. We think its best days are yet to come, both in the US and beyond, and we're thrilled to join them in their next phase of growth."
In recent years, growth in the US yogurt market has stalled, prompting Chobani to broaden its portfolio of products.
The company has international operations, with sites in Mexico and Australia.