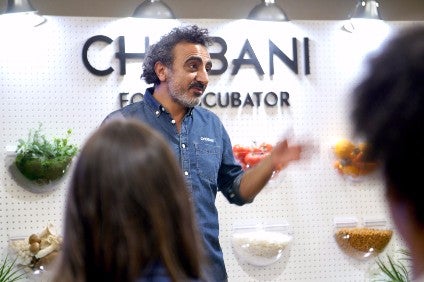 US yogurt maker Chobani has selected seven start-up enterprises to join its so-called incubator programme, the second wave of businesses to join the project since it was launched last year.
Chobani selected the companies based on innovation such as plant-based ice cream, a low-sugar, low-calorie beer alternative and a healthier frozen fruit pop, as well as new takes on oats, saffron and seafood, according to a statement today (26 September).
Hamdi Ulukaya, Chobani's founder and CEO, said: "To select our second next class, we tasted hundreds of products and met with entrepreneurs across the country and the world. In selecting this class, we looked at what categories – and what teams of people – have the ability to make big changes in American supermarkets and give more people better options."
The Chobani Food Incubator programme, which will run from this month through December, received more than 550 applications, up 20% from last year. It seeks to support small brands and provide the resources they need to come up with new product ideas and challenge the bigger players.
The selections are: frozen fruit products maker Chloe's Fruit; ginger beer brewer Farmer Willie's; grains-based entrees and meal-kits supplier Grainful; frozen seafood company LoveTheWild; tea supplier Pique; Rumi Spice, which makes products from saffron; and plant-based ice cream business Snow Monkey.
Ulukaya launched the Chobani Food Incubator last year with the aim of helping to support food entrepreneurs in setting up their businesses and encouraging them to challenge the established food industry. Pasta firm Banza, jerky snacks purveyor Chops Snacks and organic chocolate maker Cissé Cocoa Co. were among the six companies to be involved in the incubator programme first time around.
Earlier this month, Chobani launched an incubator programme in Australia that will run from February to April 2018.