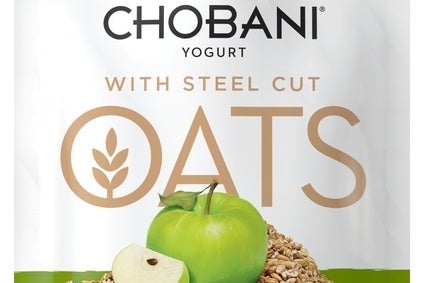 US-based yoghurt group Chobani has launched its Chobani Oats line in Australia in a pouch format.
Chobani Oats, a mix of yoghurt and steel-cut oats, made its debut in the US last year in cups but the company has decided to introduce the product in Australia in a different type of packaging.
"In 2013, we launched our Chobani Yoghurt in a pouch format in response to feedback from our fans that they would love to enjoy our yoghurt while they're out and about. We noticed that many people were buying our pouches as a portable breakfast. While there are numerous on-the-go breakfast products on market, most fail to deliver a true breakfast experience," Peter Meek, MD of Chobani's Australian business, said. "We believe consumers have great taste, they just need great options, so we're excited to bring more choices to our Chobani fans and portable breakfast consumers with Chobani Oats."
The new line is available in four flavours – Apple Cinnamon, Banana Maple, Cranberry and Coconut. Each 140g pouch of Chobani Oats contains 10g of protein. They have an RRP of A$2.89 (US$2.23).