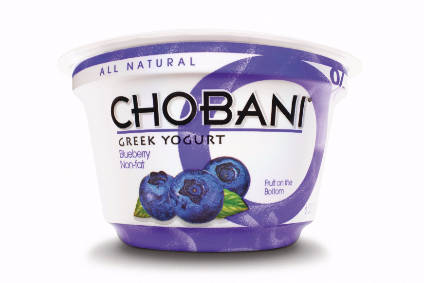 Chobani has turned down offers from suitors interested in investing in the US yoghurt maker, just-food understands.
The company was approached by several interested parties last year and hired Goldman Sachs to look into its options. During the review, Chobani then received offers of investment but the business turned down the bids, instead deciding to remain independent.
On Friday (5 February), Bloomberg reported PepsiCo had made an offer to invest in Chobani but the bid was turned down. Bloomberg, citing unnamed sources, said Chobani wanted to sell a minority stake in the business but PepsiCo was looking to acquire over half the company.
When contacted by just-food, a spokesperson for Chobani did not confirm whether PepsiCo had tabled an offer but said: "We took our time with this process, conducted thorough due diligence and in the end, given our strong performance, we decided to fund our new growth initiatives ourselves while keeping our independence, which is important to us."
PepsiCo had not returned a request for comment at the time of writing. In December, PepsiCo and German dairy giant Muller decided to end their US yoghurt venture, Muller Quaker Dairies, after the business did not meet expectations.
In 2014, TPG loaned Chobani US$750m, with The Wall Street Journal reporting at the time the deal included warrants that could give the private-equity firm between 20% and 35% of the yoghurt producer under certain circumstances.
Chobani has seen its shares of the US yoghurt category and Greek yoghurt segment rise in recent months amid competition from the likes of Danone and General Mills.
just-food understands Chobani plans to enter Mexico in April. The company has also acquired a production line to supply foodservice customers in the US.