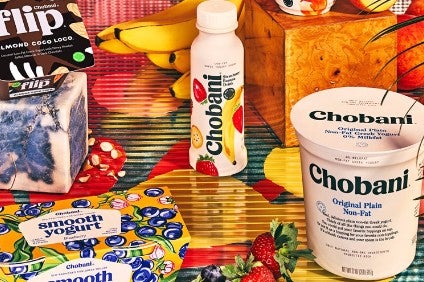 US yogurt maker Chobani has unveiled the start-up businesses which will make up the 'class' in the third version of its domestic incubator programme.
The company – the largest Greek-style yogurt manufacturer in the US – said the new cohort includes companies "re-imagining" baby food, healthier breakfast, better beverage and snack options.
It said the spring 2018 class for the Chobani Incubator is comprised of companies that are "disrupting and improving high-potential food categories in the US".
Chobani Incubator director Jackie Miller said: "The past few years have proven the need, value and strong desire for a food incubator that is solely focused on supporting entrepreneurs who want to challenge the food industry, improve broken systems and bring better food to all people.
"Through this programme, we've seen companies double their distribution, expand their teams and launch new products – and we're just getting started."
The programme helps entrepreneurs break into the food and beverage industries through equity-free investment and a strong focus on mentorship. The incubator's first class has seen a more than 250% increase in distribution and 2.6x growth in annual revenue.
The programme had more than 650 applications for the nine spots in this year's class – a 30% increase from last year.
The third Chobani Incubator class will run from April to July 2018, based out of a dedicated space at the company's sales and marketing offices in New York.
This year's incubator participants are:
88 Acres, which crafts nutritious snacks and seed butters made with simple ingredients and free from the 11 most common food allergens.
Fresh Bellies, which makes organic baby food, using herbs and spices to train baby palates.
Masienda, which is a clean-label tortilla company.
Noka, which makes superfood smoothie packs.
Nona Lim, which makes products such as Asian-inspired soups, noodles, and broths with no additives, nor preservatives.
Puffworks, which makes organic peanut butter puffs using simple ingredients.
Remedy Organics, which is a health and wellness platform targeting health conscious consumers
teaRIOT, which is a tea blends business.
Wildway, which is a better-for-you breakfast and snack food company.
Chobani launched the US incubator in 2016. Pasta firm Banza, jerky snacks purveyor Chops Snacks and organic chocolate maker Cissé Cocoa Co. were among the six companies to be involved in the incubator programme first time around.
The company has also run an incubator in Australia, which launched last September and is in the middle of its first class.