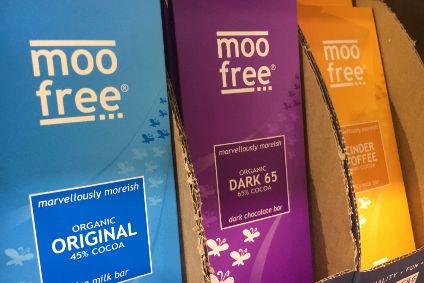 Moo Free, the UK chocolate maker, is adding to its range of products in a bid to bolster sales should the country's departure from the EU affect the company's export sales.
The Devon-based business, which markets dairy-free, soya-free and vegan chocolate, is looking to launch a range of bars under the sub-brand Marvellously Moreish later this year.
Chris Pritchard, a marketing executive at Moo Free, outlined two reasons for the development of the bars, one of which is guarding against any upheaval from Brexit.
"Brexit is part of the reason why we've come out with these brand new bars, which launched about two weeks ago," Pritchard told just-food at the IFE trade show in London yesterday (19 March). "We are focusing predominantly on the UK with these bars. We are trying to shore up our sales in the UK at the moment. Even if everything does go to pot, we've still got a certain amount of sales in the UK to fall back on."
Pritchard added: "We've [also] been asked for quite a long time why we don't do something geared a little bit more towards adults. People say 'we love the chocolate, we love the animals' but it's not quite what people want to be seen to be eaten. We pulled back the branding a little bit but it's not as cartoon-y. It's got slightly more sophisticated flavours; sea salt and lime, for example."
Moo Free, which has its products stocked across the UK's 'Big Four' supermarket chains, has had talks with retail customers in the country about listing the new bars. "We're talking to a couple of the multiples at the moment. I think Tesco was one of the ones that were interested. I think we're looking at a strong November launch," Pritchard said.
Last year, Moo Free, majority-owned by company founders Mike and Andrea Jessop, expanded its production and Pritchard said the investment was helping it hold or reduce prices. "We are either freezing things or bringing them down, now we're manufacturing on a slightly bigger scale, we've got a bigger factory. It is something we're actively trying to do. Another of the criticisms we've had was that our products are expensive.
"The RRP [for Marvellously Moreish] is GBP2.19 (US$2.89). We've made the bars a bit smaller and a bit thinner and reduced the RRP as well to try and make them a bit more accessible."
Moo Free, which generated a turnover of more than GBP3m in 2018, sells into around 30 countries. Pritchard says Brexit has shaped Moo Free's export strategy. "We have been focusing quite a lot outside the EU," he said. "We've [also] been buying in a lot of ingredients. It's not just been about the export for us, it's also been about import. We're holding a lot more stock to try and ride it out if and when it happens."
Australia is among Moo Free's largest export markets and the company is looking to appoint more distributors to try to crack the country's major supermarket chains. "We've got one distributor at the moment who focuses on the wholesale, farm shops, delis that kind of thing but they're not so focused on the multiples. We're currently looking at a couple of other distributors at the moment … so we can then get them into Coles, Woolies. They'd work alongside them and serve different sides of the market."
Moo Free is hoping its new products and expansion in international markets will contribute to a 2019 turnover target of GBP5.3m. Pritchard said "shoring up" Moo Free's distribution in the UK could also help sales. "We've got quite wide distribution but we'd like to maybe get a few more lines in there. We'd like to boost distribution a little bit more. Ideally, we'd like to get a few of these Marvellously Moreish bars in there as well."