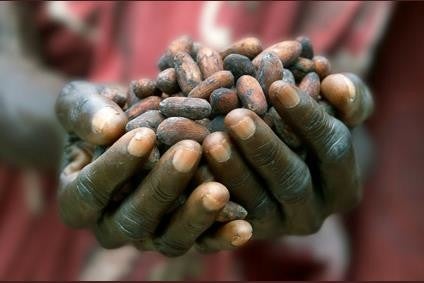 Top cocoa-producing nations Côte d'Ivoire and Ghana and major confectionery companies have agreed to take action to help eliminate deforestation.
At the UN Climate Change Conference in Bonn, Germany, the countries announced far-reaching "frameworks for action" with cocoa and chocolate companies – including Nestle, Ferrero, Mondelez International and Hershey – to end deforestation and restore forest areas in the two African countries.
Central to the agreement is a commitment to no further conversion of any forest land for cocoa production.
Over a ten-year period, approximately 2.1m hectares of forest area have been cleared in Côte d'Ivoire and 820,000 hectares in Ghana.
The companies and governments have pledged to eliminate illegal cocoa production in national parks, in line with stronger enforcement of national forest policies and development of alternative livelihoods for affected farmers.
The two countries produce nearly two-thirds of the world's annual supply of cocoa, the main ingredient in chocolate and a range of other consumer products.
The World Cocoa Foundation revealed the two governments and companies have agreed to accelerate investment in long-term sustainable production of cocoa, with an emphasis on "growing more cocoa on less land".
Key actions include provision of improved planting materials, training in good agricultural practices, and development and capacity-building of farmers' organisations.
Sustainable livelihoods and income diversification for cocoa farmers will be accelerated through food crop diversification, agricultural inter-cropping, development of mixed agro-forestry systems, and other income generating activities designed to boost and diversify household income while protecting forests.
Côte d'Ivoire minister of water and forests Alain Richard Donwahi said: "We support this Framework for Action and the vision it lays out for preserving and restoring our forests, including the national parks."
World Cocoa Foundation chairman Barry Parkin said: "These comprehensive frameworks for action are important landmarks as they spell out a series of steps by both governments and industry to stop deforestation in cocoa-growing areas.
"In making good on these commitments, the public and private sectors will be partnering on actions that result in cocoa becoming a serious agroforestry crop, where different trees and crops co-exist on the same land and previously deforested land is being rehabilitated. This approach could serve as a model for other commodities."
Companies that have so far committed to the frameworks are Barry Callebaut, Blommer Chocolate Company, Cargill, Cemoi, Cococo Chocolatiers, ECOM Group, Ferrero, General Mills, Yildiz Holding-owned Godiva, Guittard Chocolate Company, Hershey, Mars, Japan's Meiji Co., Mondelez, Nestle, Olam International, Toms Group, Touton, Tree Global and JH Whittaker & Sons. UK grocer Sainsbury's has also joined the accord.
Aldo Uva, chief operating officer at Ferrero, said: "I truly welcome this concrete agreement aimed at ending deforestation and restoring forest areas.
"Ferrero is committed to working on the challenges to end deforestation in the cocoa sector, as well as implement key principles and strategies that underpin socially and environmentally sustainable cocoa production."
Today's announcement follows a "statement of collective intent" issued in March by 12 chocolate and cocoa companies – including Nestle, Mondelez, and Hershey – to work together to "end deforestation and forest degradation in the global cocoa supply chain", focusing initially on Côte d'Ivoire and Ghana.
What could the chocolate industry's plan to end deforestation look like? – analysis
By Ben Cooper | 23 March 2017
Twelve chocolate and cocoa companies, including Nestle, Mondelez International, Hershey last week announced plans to work together to "end deforestation and forest degradation in the global cocoa supply chain", focusing initially on Côte d'Ivoire and Ghana. Ben Cooper speaks to industry and campaign representatives to set out what that plan could look like.