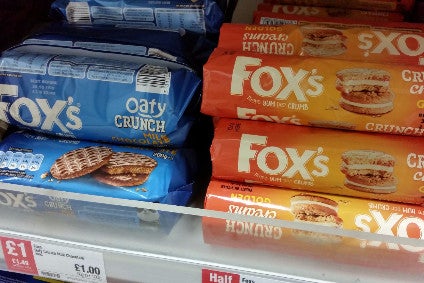 The takeover interest lodged in the UK's Fox's Biscuits reportedly came from a group of bondholders, not a rival company.
Sky News last night (22 February) claimed a consortium of financial institutions based in the City and on Wall Street had made the "preliminary approach" revealed last month by Fox's owner Boparan Holdings.
The report, quoting unnamed insiders, said the bondholders were looking to buy Fox's through a new special purpose vehicle. The identities of the suitors were unclear, the report said.
Approached by just-food this morning, Boparan declined to comment.
Boparan, which acquired Fox's as part of its purchase of UK group Northern Foods in 2011, said last month it expected any formal offer for the company would "be at a valuation in the region of GBP350m". There has since been no further comment from the business on the interest.
There has been regular speculation of possible interest in Fox's Biscuits. In 2014, another UK-based biscuit business, Burton's Biscuit Co., was reported to have made an approach to buy Fox's.
In January last year, The Wall Street Journal reported Boparan Holdings had instructed investment bank Rothschild to contact potential buyers to gauge interest in the business, although sources played down the prospect of a sale when approached by just-food. Last spring, there were reports Boparan had entered talks with Burton's.