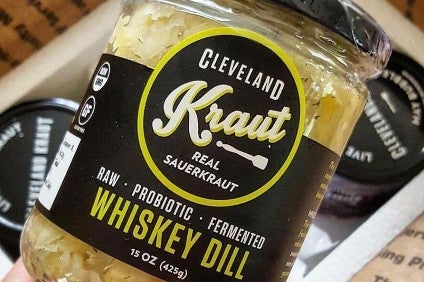 US-based speciality sauerkraut maker Cleveland Kraut has completed a US$1m round of funding, led by investor Clover Capital.
The Cleveland firm, which makes a range of raw fermented products, said part of the investment will be put towards building a new 20,000 square foot production facility and fermentation space "with significantly more space to handle increased demand, in addition to the research and development of new fermented product lines".
The business was founded in 2014 and made its first sales at farmers markets in Cleveland. Its products – which complete Curry Kraut and Cabbage & Cukes – are now available in 49 states, including from select branches of large-scale retailers such Whole Foods Market and Kroger.
The latest funding round was also said to have included investment from an unnamed business, which will be able to help the company in areas such as sourcing.
As part of its investment, Clover will retain a seat on Cleveland Kraut's board of directors.
Cleveland Kraut CEO and co-founder Drew Anderson said in a statement: "There's a fast-growing consumer trend and awareness towards fermented foods and probiotics, and we're passionate about creating the most authentic and vibrant product on the shelves. We're excited to have such a strong investment group to help us continue to deliver our premium fermented foods to the people."
Alex Schneider, co-founder of Clover Capital, said: "We are thrilled to partner with the innovative Cleveland Kraut team as they continue to build an exciting platform in this high growth category of raw, probiotic and fermented foods."