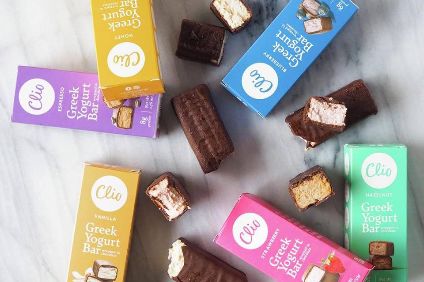 Clio Snacks, a US supplier of yogurt snack bars, has secured investment from local private-equity firm Alliance Consumer Growth.
Financial details were not disclosed but Clio described the transaction as "a significant growth equity investment" from ACG.
In a statement, Clio, set up in 2013, said the deal would "fuel its growth, expansion and continued product innovation".
Sergey Konchakovskiy, Clio's founder and CEO, pointed to ACG's previous investments in the consumer-goods industry, which included backing for Krave, the US jerky business sold to Hershey in 2015.
"When looking for a growth partner we couldn't have imagined a better partner than ACG with its exceptional track record of helping great brands, such as BarkThins, Suja, and Krave, build sustainable businesses that will live on for generations. We are excited to share this same vision for Clio," Konchakovskiy said.
Clio Snacks markets Greek-style yogurt bars. The range, wrapped in chocolate, comes in six flavours including strawberry and espresso.
ACG co-founder Julian Steinberg said: "Clio is the most exciting innovation in the yogurt aisle we have ever seen. Clio is the perfect marriage between the convenience of a nutritious protein bar and the probiotic benefits of yogurt."