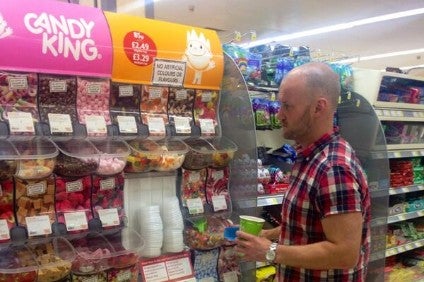 Cloetta plans to premiumise its Candyking brand to bring in more cash as the European confectioner grapples with a downturn in consumer demand linked to the pandemic.
The Sweden-based business, also the owner of The Jelly Bean Factory brand, has struggled since the onset of the coronavirus outbreak in March and today (14 July) issued a profit warning for the third quarter alongside results for its second quarter to the end of June. Hit particularly hard over the past few months was Cloetta's pick-and-mix category, namely its Candyking line, as shoppers shunned unwrapped products or avoided going to retail stores altogether.
Cloetta has also lost business through the closure of the hospitality sector, which has affected the company's sales in its key Nordic markets, the UK and Italy, as well as the travel and entertainment channels such as cinemas. The company also issued a second-quarter profit warning in April.
Pick-and-mix sales have dwindled to account for 15% of group sales in the second quarter, with the slack taken up by the company's packaged branded segment, but which still saw organic revenues decline 6.3%. Pick-and-mix sales fell 58.5%.
In an effort to boost consumer confidence, chief executive Henri de Sauvage-Nolting, speaking on a post-results call with analysts, said the company has introduced new fixtures for Candyking with a cleaning station for serving scoops following feedback from customers.
He added Cloetta is "repositioning Candyking to a more premium concept", with a better assortment and quality, which will result in "better profitability for retailers and for us".
"So that is something we will be rolling out towards the end of the year, associated with prices increases to fit with the premium position."
The CEO said Cloetta had already raised prices for Candyking in some markets – Sweden in May and in Norway through July.
Retailers in most of the company's markets should start to open up their pick-and-mix fixtures during the third quarter as demand slowly returns with the easing in Covid-19 restrictions, de Sauvage-Nolting noted. However, the UK is a bit behind in terms of the hospitality sector getting back to some sort of normality, with pick-and mix shipments expected to recommence in August and September as the annual holiday period starts to fizzle out, he said.
Both Cloetta's branded and pick-and-mix lines have started to recover but sales are generally still in negative territory.
Pick-and-mix fell organically by 58.5% during the quarter, broken down as a 70.5% decline in April, a 60.2% decrease in May and a 41.1% drop in June.
"Pick-and-mix has gone from very bad to bad, mainly driven by retailers opening up fixtures again," de Sauvage-Nolting said.
Meanwhile, branded sales dropped 6.3% over the three months, but were up 1.5% in June following a decline over the prior two months.
Still, it will be "several quarters until the full consumer demand returns", the CEO said. Cloetta is "adjusting to a new market and consumer realities".