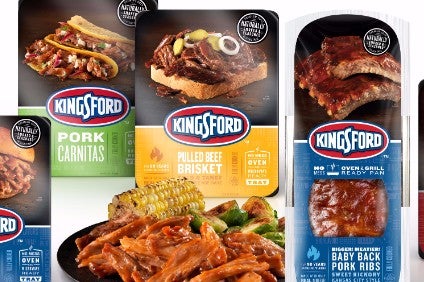 US consumer goods group Clorox has announced a licensing deal that adds to its recently-launched range of food marketed under charcoal brand Kingsford.
Clorox launched a line of Kingsford-branded sauces and a dry rub earlier this year. Through a deal with US meats supplier Carl Budding & Co., a range of pre-cooked ribs and barbecue entrees will hit the market in December.
Rory Wehrlie, associate director of alliances at Clorox, said the two companies were "building on Kingsford's 90-plus years of grilling expertise to offer high-quality Kingsford branded barbecue foods that create significant value for the category and consumers".
The partners are looking to launch the products in US supermarkets, club stores, foodservice outlets and military channels.
"Kingsford is a highly respected brand across categories with exceptional consumer awareness. This partnership is a natural fit for Buddig as we continue to grow our product line of fresh, great-tasting meats," Tom Buddig, executive vice president of Carl Buddig & Co., said.