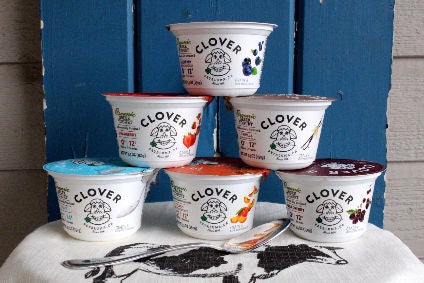 US dairy firm Clover Stornetta Farms has announced its launch into the Greek yoghurt category.
The company boasts butter, cheese and craft ice cream among its stable of products.
Its new line of organic Greek yoghurt is made using Clover's own organic nonfat milk and organic fruit.
Clover said it is rich in protein, calcium, and contains five live cultures making it a healthy snack. It is authentically strained to create its smooth texture.
The new range features six variants: blueberry, strawberry, peach, black cherry, vanilla, and plain. Each pot is 5.3oz. Plain and vanilla flavours are also available in a 32oz containers.
"As we look to grow and attract new consumers, we look to different markets. We've seen Greek growing in the yoghurt space for quite some time now and it is steadfast," said Clover president and CEO Marcus Benedetti. "The quality of our organic milk, combined with the authentic nature in which our new Greek yoghurt is made, will give us a strong entry into this arena."