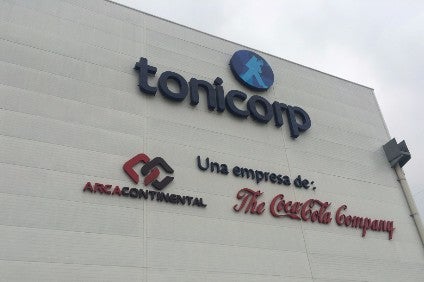 Coca-Cola Co. and its Mexican soft drinks bottling partner Arca Continental have officially inaugurated a new dairy production plant in Ecuador under the Tonicorp business, which the two companies own and operate in partnership.
The 100,000 sq ft facility has 19 separate production lines producing a range of dairy products including Toni yogurt and Heladosa Topsy ice cream.
Almost US$100m has been invested in the plant, more than doubling its production capacity from 80 litres to 150 million litres of dairy products a year, the largest ever investment in the Ecuadorian dairy sector. The majority of the cost of the project was funded via a loan from the International Finance Corporation, a member of the World Bank.
"The project was born with the aim of becoming a benchmark, with a plant that meets quality standards, expands our production capacity and consumption with a view to taking the products to other countries," Jorge Medina Ycaza, the director general of Tonicorp, said.
Tonicorp has ambitious plans for the business; dairy consumption in Ecuador is around 3.2kg per person and Medina said he wants to see that increase to 6kg per person within five years.
"Consistent with our long-term vision for our businesses, we continue strengthening our investment strategy in the region's high value-added dairy segment, solidifying our production capacity under the strictest quality, efficiency and sustainability standards," Francisco Garza Egloff, Arca's CEO, said at the inauguration ceremony yesterday (June 29th). "The strengthening of this business reinforces Arca Continental's commitment to Ecuador, as well as our constant effort to better serve our customers and consumers to collaborate in the integral development of the community. The new plant will enable us to continue innovating, not only our portfolio but in new market segments as well."

Louis Balat, the general manager for Coca-Cola's operations in the Andean region said: "The new plant will enable us to continue innovating, not only our portfolio but new market segments as well, as a Total Beverage Company."
Tonicorp has plans for expanding its export operations, following the signing of a free trade agreement between Ecuador and the EU, which came into effect on 1 January. At present, Tonicorp exports to South and Central America, Spain, the US and the UAE.
Coca-Cola has shown growing interest in the dairy sector in recent years. In 2016, it bought a minority stake in Nigerian dairy and soft drinks business Chi, while it made another foray into the Indian market for dairy drinks with the launch of a flavoured milk brand, Vio, in January last year.