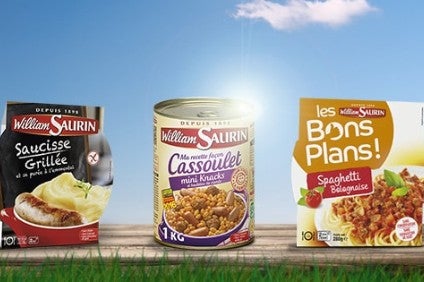 French food manufacturer Cofigeo has been given the all-clear to buy all of the ready-meals assets formerly owned by French food holding company Financiere Turenne Lafayette, if it "maintains" employment at the operations for two years.
Last month, France's competition watchdog, L'Autorité de la Concurrence, said Cofigeo could buy the assets if it sold its Zapetti brand and a production site to protect competition within the sector.
However, the country's France's Economy and Finance Ministry said it would give its own assessment of the deal and look at the possible impact the takeover – including the William Saurin brand – could have on jobs and the sector.
Yesterday, the ministry issued its verdict, insisting Cofigeo could acquire all the FTL ready-meal assets "subject to the maintenance of employment".
"The economic consequences of such disposals … showed a significant risk in terms of employment," the ministry said.
The ministry added "the safeguarding of employment" was the justification for it weighing in on the competition watchdog's original decision, which had looked at the transaction through the lens of what impact the deal would have on competition in the sector.
The acquisition of the former FTL assets sees Cofigeo add brands including William Saurin, Panzani and Garbit to an existing portfolio that includes the Raynal & Roquelaure and Zapetti brands.