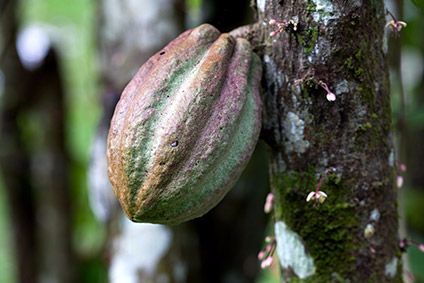 Colombia has set out a commitment to eliminate the deforestation seen in the country's cocoa supply chain by 2020.
The Latin American country has become the first in the region to join the Cocoa & Forests Initiative, launched last year by the World Cocoa Foundation and the Sustainable Trade Initiative to try to achieve a cocoa supply chain without deforestation.
Ghana and Côte d'Ivoire, responsible for 60% of the world's cocoa, were the first two countries to sign and implement the agreement in 2017.
Colombia, among the top ten cocoa producers worldwide, has seen its sector grow rapidly, with the industry seen as a priority for growth for domestic consumption and international markets.
Deforestation rates, however, have also risen, with remote parts of the countryside used for agriculture, livestock and infrastructure development.
According to The World Resources Institute, recent data from Global Forest Watch and the National Meteorological Institute (IDEAM) show the loss of tree cover loss in Colombia grew 47% in 2017, double the average loss from 2001 to 2015.
"Colombia is proud of the quality of the cocoa it produces, as well as its contribution to economic growth, rural employment, avoided deforestation and restoration of degraded land," Juan Guillermo Zuluaga, Colombia's Minister of Agriculture and Rural Development, said. "In a market characterised by a growing interest in zero-deforestation cocoa, with a positive story to tell about forests and peace, we hope Colombia's signing up to the Cocoa and Forests Initiative will encourage greater interest and investment in the Colombian cocoa supply chain."
The largest cocoa supplier in Colombia, Casa Luker, has also pledged to end deforestation from its supply by 2020.
Joost Oorthuizen, executive director for the Sustainable Trade Initiative, said progress had been seen in west Africa. "As can be seen in the Cocoa and Forests Initiative in Ghana and Côte d'Ivoire, fully engaged public and private stakeholders can take great strides to reach their commitments together."
just-food deep dive from July 2018: How do food companies ensure cocoa supply meets future demand – sustainably?