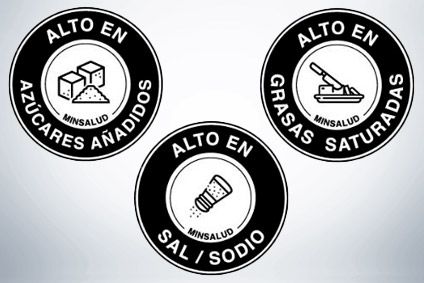 Colombia's government has launched compulsory labels to be put on the packaging of foods high in sugar, salt and saturated fat.
The country's Health Ministry last week revealed the design of the circular, monochromatic, warning labels, which also include icons representing the ingredients.
Colombia's food industry association, which was consulted, supports the labels.
"We see this decision from the Health Ministry as a very important step and an effective tool for Colombian consumers to be able to have information to lead balanced diets, in line with incorporating healthy habits as physical activity, adequate use of technology, the consumption of fruits and vegetables, attention to mental health, among others", Camilo Montes, executive director of the Food Industry Chamber of the National Industrial Association (ANDI), said.
Montes stressed the warnings that were agreed "are not to alarm consumers but to warn them on the nutritional content, complementing the information with a simpler and larger nutritional table on the back" of products.
The new system signifies the passing from a voluntary to a compulsory model in Colombia. However, according to Montes, it is likely products with a healthier nutritional content will be able to carry a positive label. "This is still being studied," he said.
Aside from the warning labels on the front of packaging, regulations will establish new criteria for making the nutritional table on the back simpler and larger in size. It will indicate content for 100g, 100ml or portion, depending on the product.
"The limits to establish these criteria are in harmony with the regional regulatory trend", the Health Ministry said. Chile, México and recently Uruguay have issued similar measures.
The announcement unveiling the new warning labels was made by Colombia's President, Iván Duque. "In many countries in the world this has been the product of confrontations that sometimes became captured by ideologies, or worse, trapped in debates where either the private sector or the State are put against a wall," he said. "We are demonstrating that we can all make this decision constructively."
Colombia's new rules for food labelling are set to roll out in May 2021 and become compulsory in November 2022.
While Colombia's government and the industry have agreed on the design of the labels and the period of implementation, manufacturers do not yet know which products will have to carry the seals because standards for salt, sugar and saturated fat content have yet to be decided upon.
Montes said how much of the ingredients are consumed by Colombians, as well as similar regulations in nearby countries, needed to be taken into account.
"This is a key point," Montes said. "The levels [of ingredients] to determine which products will carry the seal should take into account harmonisation with regional regulations and the real input of [the ingredients] in the diets of Colombians. Science and food technology will also have an important role in this process."