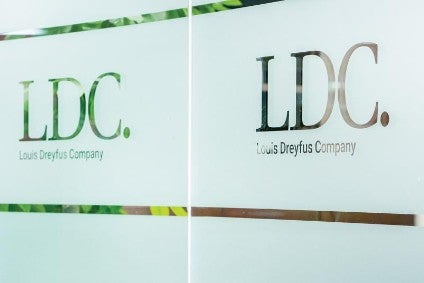 Louis Dreyfus Co. has formally launched a venture-capital programme through which the agribusiness behemoth says it would look to invest in "customer-facing" products.
The LDC Innovations arm is seen by the Netherlands-based group as "another positive step in our strategic growth plans", Ian McIntosh, Louis Dreyfus Co.'s CEO said in a statement.
"Over the coming months, we will invest in early-stage companies with the potential to transform the food and agriculture industries. Most importantly, we will support businesses which share our vision for a safe and sustainable future through transparent supply chains, responsible sourcing and long-term value creation," McIntosh added.
Max Clegg, who has spent eight years at Louis Dreyfus Co., including seven leading corporate development and M&A in North America, will lead LDC Innovations as part of the group's innovations and downstream team. That business unit is overseen by Thomas Couteaudier, in addition to his existing responsibilities as head of Louis Dreyfus Co.'s operations in south and south-east Asia.
Asked by just-food where on the supply chain the unit could look to make investments, Louis Dreyfus Co. provided a further statement: "While we will explore opportunities across the value chain, for customer-facing products/services specifically, we will focus on innovative ideas or technologies complementing our own core commercial and operational activities."
In the food and beverage sectors, Louis Dreyfus Co. trades in commodities including wheat, grain, edible oils, rice, coffee and sugar. Last year, the group also took part in the financing of Ginkgo Bioworks' food ingredients venture, Motif FoodWorks, which creates ingredients for plant-based food suppliers.
Louis Dreyfus Co. added: "The scheme is a global one, and we are not targeting any specific region. It is premature to comment on the timeline and value of investments, however, as these will depend on the profile and scale of prospective portfolio companies.
"In addition to financial investment, LDC could contribute operational, logistic and risk-management expertise to portfolio companies. Where appropriate, companies whose products or services complement our own operations, or have the potential to extend our commercial reach, may also benefit from arms-length relationships as customers or partners of LDC."