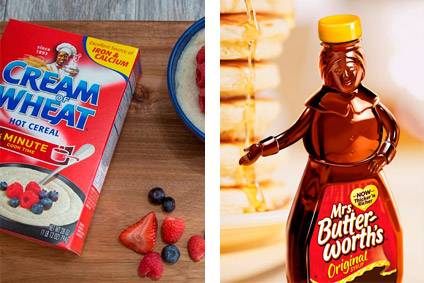 US-based food majors Conagra Brands and B&G Foods have said they will each review a brand's imagery amid the spotlight on possible racial stereotyping by FMCG companies.
Chicago-headquartered Conagra said it has "begun a complete brand and packaging review" of its Mrs. Butterworth's line of syrups and pancakes mixes, while New Jersey-based B&G is reviewing its packaging images for the firm's Cream of Wheat cereal.
Conagra describes the syrups on its website as coming in "distinctive bottles shaped in the form of a matronly woman". Cream of Wheat is more obvious, as the packaging depicts a black man dressed as a chef holding a bowl of hot cereal.
PepsiCo announced yesterday (17 June) it is to change the Aunt Jemima brand name and logo amid criticism for racial stereotyping. Mars also announced it would "evolve" its Uncle's Ben brand, "including its visual brand identity".
The moves from both firms come amid calls and protests globally for racial equality and the elimination of racism following the death in Minneapolis last month of black citizen George Floyd during his arrest by police. In some countries, such as the US and the UK, protesters have been pulling down statues and other images that are reflective of the slave era, directly as a consequence of the police treatment of Floyd.
Conagra said in a statement: "The Mrs. Butterworth's brand, including its syrup packaging, is intended to evoke the images of a loving grandmother. We stand in solidarity with our black and brown communities and we can see that our packaging may be interpreted in a way that is wholly inconsistent with our values.
"We understand that our actions help play an important role in eliminating racial bias and as a result, we have begun a complete brand and packaging review on Mrs. Butterworth's.
"It's heartbreaking and unacceptable that racism and racial injustices exist around the world. We will be part of the solution. Let's work together to progress toward change."
Meanwhile, B&G said the company "understands there are concerns regarding the chef image".
B&G continued: "We are committed to evaluating our packaging and will proactively take steps to ensure that we and our brands do not inadvertently contribute to systemic racism. B&G Foods unequivocally stands against prejudice and injustice of any kind."