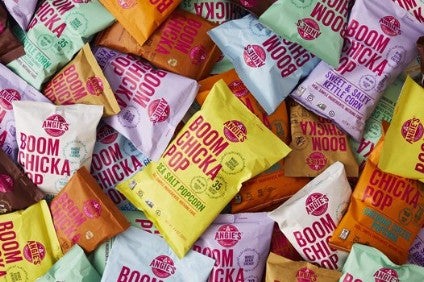 Conagra Brands anticipates its pandemic-led volume and market-share gains will stick in what the US food maker envisages as a structural shift to eating at home, although it risks pressure on margins from inflation.
"Recent studies and our understanding of habit formation tell us that this shift towards at-home entertainment is likely to continue post-pandemic," CEO Sean Connolly told analysts yesterday (8 April). "When consumers, particularly the younger generations move their entertainment to the home, they increase the number of at-home snacking occasions."
Speaking in the context of many people confined to working at home due to lockdown restrictions, which have forced foodservice establishments to adopt more delivery and takeaway models in the absence of in-house diners, Connolly said frozen foods, in particular, have benefited.
"The adoption of remote work provides a structural increase in the demand for frozen food compared to pre-Covid levels. Importantly, some aspects of the remote workforce adoption are expected to be permanent and this shift to remote work has the biggest impact on lunch and dinner occasions."
Connolly made the comments after reporting the US company's third-quarter results and reiterated expectations for 1-2% organic growth for the full year. However, he emphasised: "We are not relying on these benefits to achieve our fiscal 2022 organic net sales guidance."
In the quarter to 28 February, Conagra's net sales rose 8.5% to US$2.8bn, and were up 9.7% on an organic basis. Operating margins climbed 193 basis points to 16.2%, and increased 31 points in adjusted terms to 16%. Retail sales rose 13.8%, while foodservice sales fell 17.2%.
CFO David Marberger said organic sales were supported by a 6.1% increase in volumes "connected to the continued increase in at-home food consumption".
Inflation is becoming an issue for food manufacturers and retailers alike, led by rising commodity, shipping and logistics costs. Conagra witnessed inflation of 3.9% in the third quarter, more than its estimate of 3.5%, with the CFO expecting a further acceleration in the "next few quarters".
Marberger outlined the measures Conagra is taking: "We have already mobilised our inflation-justified pricing plans with some actions already in market, others communicated to customers, and some yet to come. History shows us that price adjustments are more likely to be accepted in the market when industry-wide and broad-based input-cost inflation occurs, and that's the environment we see today."
He added: "We will also leverage our capabilities beyond just pricing to offset margin pressure, including overall mix management, cost-savings measures such as our ongoing supply chain, realised productivity programmes and the optimisation of our fixed cost leverage."
Conagra was also forced to invest in its own transportation network to get products to consumers amid the elevated at-home demand, costs the CFO emphasised were on top of inflation linked to transport.
"To adequately service this demand, we made the decision to invest approximately $15m in the quarter. This meant aggressively seeking out every available truck and adjusting how we ship to customers. To best service demand for certain brands, we had to bypass our normal distribution network and ship directly to customers. While we incurred additional costs to implement these actions, which impacted our operating margin, this enabled us to minimise out of stocks, maximise on-shelf availability, and maximise profit dollars," Marberger explained.
Year-to-date sales were up 8.7% at $8.44bn, while net income rose 54.7% to $991m. Operating profit margins came in at 17.6%, and were 18.6% on an adjusted basis.
CEO Connolly also alluded to the up-tick in e-commerce during the pandemic, some of which was "over-indexed to younger, millennial consumers" as Conagra grew its markets share through the channel across 76% of its brands.
"When consumers start to shop online, they are likely to continue the behaviour and become heavy users of a brand, and online shoppers in general have higher brand loyalty than those shopping in store," Connolly said. "All of this demonstrates the opportunity for superior lifetime value that's being generated by our e-commerce investment and growth."