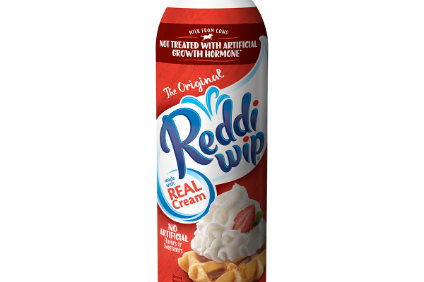 Conagra Brands, the US food group, has altered the recipe for its Reddi-wip cream.
Reddi-wip will no longer contain artificial flavours nor be made with milk from cows treated with the artificial growth hormone rBST. Conagra is to use natural vanilla flavouring in the cream.
"We pride ourselves on listening to our consumers, and our most recent changes reflect their evolving ingredient preferences, as well as their desire for increased transparency around what is in their food," Ciare James, the senior brand manager for Reddi-wip, said.
Conagra the price of the revamped Reddi-wip would be "consistent" with the previous recipe.
Before Christmas, Conagra revealed its Reddi-wip brand had been affected by "an industry issue on nitrous oxide" late in its second quarter, a period that ran to 27 November.
However, in the company's first quarter, Conagra reported a "solid top-line peformance" from Reddi-wip, which it described as "a top performer" for the business.