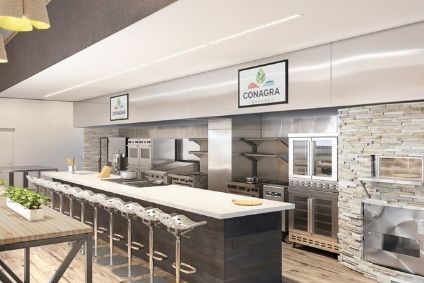 US food group Conagra Brands is to build a new innovation centre in Chicago for its snacking business.
It said the Conagra Brands Center for Food Design will be a "state-of-the-art snacking innovation centre" with up to 50 food designers and culinary staff.
The 40,000-sq-ft centre is to be built next to Conagra's existing headquarters in The Merchandise Mart. The facility will "combine culinary, and food and packaging design expertise in a space that enables rapid development of contemporary, on-trend products," Conagra said.
Tom McGough, executive vice president and co-chief operating officer at Conagra Brands, said: "Conagra Brands US$2bn snacks business is one of the largest and fastest-growing in the food industry. Our strong snacking portfolio is positioned for long-term growth and we expect the capabilities in this new facility to enable us to create even more innovative products that our consumers will love.
The centre is scheduled to open in the first quarter of 2020. 
Conagra said it will continue to operate The Center for Food Design and Technology in Omaha, Nebraska, which will focus on its frozen, refrigerated and shelf-stable meals, as well as condiments and enhancers.
Conagra Brands currently has around 550 people working at its Chicago base.
The company's brands include Birds Eye – in the US – Marie Callender's, Slim Jim and Reddi-wip.