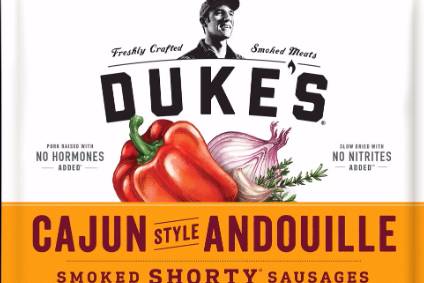 Conagra Brands has entered into a deal to buy US business Thanasi Foods, which produces meat- and seed-based snacks under the Duke's and Bigs brands.
Thanasi's Duke's brand offers smoked meat snacks made from grass-fed beef and fresh pork and chicken. The range includes Duke's smoked shorty sausages and Duke's steak and brisket strips. Conagra stressed the products are made in small batches with "quality" ingredients and "authentic" hardwood smoke pairings.
Meanwhile, the Bigs brand consists of seed snacks, including jumbo in-shell sunflower seeds, sunflower seed kernels and roasted pumpkin seeds.
"This is another exciting step in our ongoing efforts to reshape our portfolio to be more premium and modern," Conagra president and CEO Sean Connolly said. "These on-trend brands extend our meat snacks and seeds businesses into faster-growing, more premium segments."
Conagra's portfolio contains the Slim Jim meat snack brand and the David Seeds business.
The deal is subject to customary closing conditions, including regulatory approval, and is expected to close this summer. Financial details were not disclosed.
Upon completion, Big's and Duke's brands will continue to operate out of Boulder, Colorado, Conagra said.