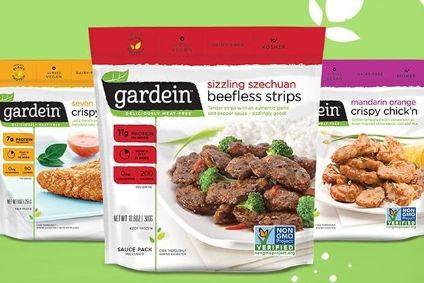 Sainsbury's is to introduce another overseas plant-based brand into the UK market, with listings starting next year.
Conagra Brands, the US food manufacturer, is to sell its Gardein meat-free products through the UK's second-largest grocer in 2019.
"We're bringing a whole new world of vegan-friendly food to the UK very soon," a post on the Gardein Instagram site read this weekend. "Our awesome plant-based alternatives are good for you and good for the planet too! Gardein has 90% less impact on the planet and uses fewer resources in production. If you're thinking about your new year's resolutions and all of this sounds like moo-sic to your ears, come find us in your local @sainsburys this January!"
Another Instagram post made by the Gardein UK feed today says "five Gardein favourites will be coming to the UK this January, launching exclusively in Sainsbury's".
The post has a photo of three products, two of which can be seen clearly – Sizzling Szechuan Beefless Strips and Mandarin Orange Crispy Chick'mn.
Two other Instagram posts published today feature one product each – Classic Meatless Meatballs and Golden Fishless Filets. The meatballs post says the range will go on sale on 2 January.
just-food has contacted Sainsbury's to confirm the products that will be stocked and in how many stores.
Officials at Conagra had not returned a request for comment at the time of writing.
Conagra attained Gardein through its US$10.9bn acquisition of fellow US food manufacturer Pinnacle Foods earlier this year.
Pinnacle acquired the then Vancouver-based Gardein in 2014.
From the just-food archive: just the answer interview – Gardein founder and CEO Yves Potvin