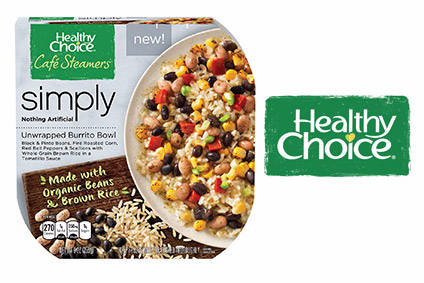 ConAgra Foods has expanded its Healthy Choice Simply Cafe Steamers line to include four dishes made with organic ingredients certified by the US Department of Agriculture (USDA).
The US group said the four, which all contain 270 calories or less, "are a reflection of current food trends". The new dishes are also made using all non-GMO ingredients, ConAgra said.
The new dishes are: Unwrapped Burrito Bowl, Sweet & Spicy Asian-Style Noodle Bow, Three Cheese Tortellini and Creamy Spinach & Tomato Linguini.
Healthy Choice associate brand manager Alan Brooks said: "Our new organic varieties provide more options to the 45% of consumers nationwide who are actively trying to include organic foods in their diet."
The new meals are expected to have been rolled out for national distribution be the end of this month. ConAgra said pricing will be "consistent with other Healthy Choice Simply Cafe Steamers recipes (MSRP US$3.29) – so Healthy Choice eaters won't have to pay premium prices to enjoy eating organic ingredients".
Last May, ConAgra said it would be taking all of its Alexia branded products non-GMO by the end of the year. The firm said the entire Alexia line would be non-GMO project verified within 12 months. Together with the announcement, the company said it was launching two new side dishes made with organic potatoes: Organic Savory Spice Sweet Potato Fries and Alexia Truffle Fries. Both new products are non-GMO verified and certified USDA organic.
Shares in ConAgra Foods slumped in pre-market trade on 30 June, as it emerged that the performance of the company's consumer foods unit weighed on its overall result. Reporting for the 12 months to 29 May, a year that saw ConAgra sell off its private brands business and detail its intention to split its Lamb Weston industrial business from its consumer food unit, ConAgra said total sales fell 2.5% to US$11.64bn.