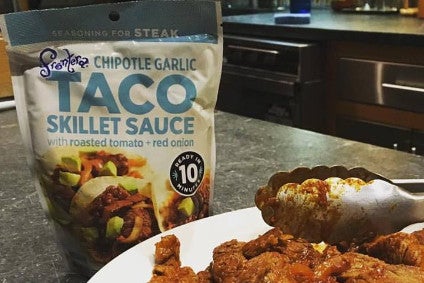 Conagra Brands today (29 June) forecast its net sales – on a reported and underlying basis – would be at best flat in its new financial year but the US group maintained its three-year targets for organic sales and adjusted margins.
The company behind brands including Hunt's ketchup and Banquet ready meals has estimated its reported net sales and organic net sales in its new financial year would range from being flat year-on-year to down 2%.
Conagra's forecast metrics for the 2017/2018 financial year, which started on 29 May, also included an estimate for its adjusted operating margin to be between 15.9% and 16.3%.
The business maintained what it called was its "three-year fiscal 2020 financial algorithm", which uses the year just finished as the base year.
That calls for organic net sales to grow at a compound annual growth rate of between 1% and 2%. Conagra defines organic net sales growth as net sales growth excluding foreign exchange and M&A, until the anniversary date of the transactions.
The 2020 forecasts also include an adjusted operating margin of approximately 16.5% for the full fiscal year 2020.
Conagra's outlook was published alongside its financial results for the year to 28 May.
The company's net sales decreased 9.7% to US$7.83bn. Excluding the impact of disposals and foreign exchange, Conagra's net sales fell 5% as volumes declined amid the company's moves to build "a higher quality revenue base".
Conagra posted an income from continuing operations before income taxes and equity method investment earnings of $729.5m, versus $108.8m a year earlier.
The Chef Boyardee pasta maker booked a net income of $639.3m, lapping a year when it reported a net loss of $677m, when losses from discontinued operations and higher SG&A costs associated with restructuring efforts, dented the bottom line.
President and CEO Sean Connolly said: "Fiscal 2017 marked our second year of tremendous progress in reshaping our company for success. The aggressive actions we have taken to upgrade the quality of our revenue base, while focusing and modernising our portfolio, have enabled us to improve our margins and jump-start innovation."