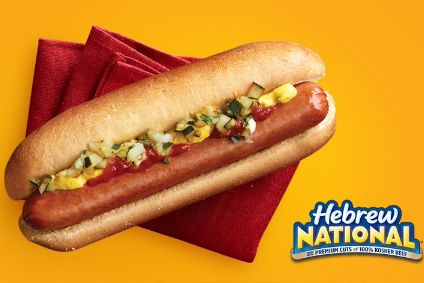 US food heavyweight Conagra Brands is reportedly in talks to sell hot-dog brand Hebrew National to Brazilian meat giant JBS .
The Wall Street Journal (WSJ), quoting people familiar with the matter, said a sale could also include the Egg Beaters and Odom's Tennessee Pride brands and be worth around US$700m.
Hebrew National's kosher beef hot dogs were first sold in New York in 1905. Conagra acquired the brand's parent company in 1993 and the products are now manufactured at a plant in Quincy, Michigan.
Other meat products are also sold under the Hebrew National brand, including corned beef, bologna, salami and pastrami. A range of savoury snacks are also part of its range.
The brand's slogan is "we answer to a higher authority".
The WSJ's sources said any agreement is likely to be weeks away but cautioned Conagra could end up keeping the business or selling it to someone else.
Chicago-based Conagra, which owns brands such as Hunt's, Slim Jim and Marie Callender's, has been re-shaping its portfolio over the last 18 months to focus more on frozen food and snacks.
This has led to a number of disposals including the sale of the Lender's Bagel business to Mexican baker major Grupo Bimbo in January last year.
just-food has asked Conagra and JBS's American arm to comment on the WSJ story, outside of US working hours.
A Conagra spokesperson said: "We don't have any comment on this rumour/speculation."