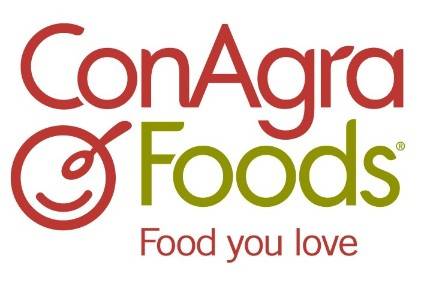 ConAgra Foods has pledged to "upgrade" products in its consumer foods segment in a bid to capture growth from the division.
The Healthy Choice frozen meals maker saw sales fall in the second quarter, the third consecutive three-month period in which sales declined. Alongside the negative impact from foreign exchange, ConAgra blamed a fall in sales from its consumer foods business.
On an investor call with analysts, CEO Sean Connolly pointed out "brand quality upgrades" would be a focus for its consumer foods business.
He pointed to Banquet frozen meals as an example which "represented the vast majority of the second quarter volume decline". As a result the firm has exercised what Connolly calls "inflation-justified list price increases" which, during the quarter, saw the price of the product lifted from US$1. The price increase sees ConAgra targeting a better value proposition in a bid to boost sales, by "combining pricing increase with the significant increase in the product quality," said Tom McGough, president of ConAgra's consumer foods division.
With the higher price point, Connolly added ConAgra would "invest in higher quality" with the product including more protein, and it would invest in re-educating the consumer about the brand. "While it's still early in the roll-out, we like the margin expansion we are seeing and its highly disciplined approach to margin expansion is one we feel good about and we will methodically apply to other brands with similar opportunities," he said.
The ConAgra chief was pragmatic about how consumers would react to the changes to the Banquet price and range. "Not every consumer will transition with the brand because a few are only about price, but given the higher quality we will attract new consumers to the franchise over time as well as improve the buying rate of brand loyalists," Connolly said.
ConAgra is also looking to focus on wellness and authenticity in its consumer foods division. Connolly said the group would turn to "a combination of organic innovation and marketing as well as smart acquisitions". He pointed to recent work on the company's Healthy Choice brand. ConAgra has launched Healthy Choice Simply Steamers, a clean label, lower carb version of its frozen Café Steamers line.
"I think companies are refocusing on quality and they are refocusing on what the definition of wellness means and for kind of a whole new generation, including us. We have got in the last few years a major thrust away from the old what I will call kind of ice cube tray type of frozen dinners that have been around forever and into a much more innovative product that we brand as Café Steamers. So, we have actually migrated away from the historic Healthy Choice positioning, focused more on Café Steamers, more on fresh. And then in this fiscal year so far, we built on that by launching the Café Steamers Simply line, which is all about clean label, low carb, much more contemporary. And these kinds of offerings are not only getting disproportionate customer support in terms of real state, because customers are dying for growth in frozen, but their velocities are significantly better and their margins are better. There is going to be a migration that takes place here and we want to participate in that and that's why we think innovation is going to be central to getting the frozen section operating to its full potential."
Last month, ConAgra announced plans to split its business into two independent companies. After announcing the sale of its own-label operations to TreeHouse Foods just weeks earlier, the US group said it would create two companies from its remaining divisions – consumer brands and its business-to-business commercial foods arm.
ConAgra is to create Conagra Brands, which will largely cover the consumer-facing business. The second company will be named Lamb Weston, which will focus on the supply of frozen potato products to the foodservice industry.
The transaction is scheduled to be finalised in the autumn of next year. Connolly is set to lead Conagra Brands.
On M&A, Connolly was asked about the types of consumer-facing businesses the group could target and the rationale for deals. The company's last acquisition was in May when it bought US natural and organic frozen meal maker Blake's All Natural Foods for an undisclosed sum.
He said: "On the inorganic side, frankly, including the organic side, the places where we have got to bolster up our portfolio is more along the lines of clean label, natural, organic, more along the lines of premium gourmet. That will be both organic and inorganic. You already see stuff like that going on. Organically, you see things like Blake's coming into the portfolio. So, we will be looking for those things. They tend to be faster growing. They tend to be margin accretive. The key is you got to be disciplined in your pursuit of that. So, we are very clear eyed on the strategy. We will be equally clear eyed on the economics of these deals. And with respect to small, medium or large, I won't speculate on small, medium or large other than to say we got plenty on our plate right now organically. So, we are going to continue to look inorganically, but it's not as if that's a pressing need to do something of significant magnitude there."
Since Connolly joined ConAgra earlier in the year, Connolly has indicated the company would look to dispose of consumer assets. Connolly did not provide too many details on the types of units that could be offloaded but said: "We are reshaping this portfolio, we are reshaping it to be more contemporary, higher margin, higher performing and more consistent. And that will happen over time through a series of organic and inorganic actions."