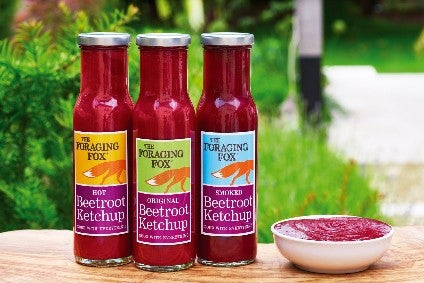 UK-based condiments manufacturer The Foraging Fox has received GBP675,000 (US$871,562) from a group of unnamed angel investors as the beetroot ketchup maker sets its sights on the North American and European markets.
The Foraging Fox was founded in 2015 by friends Frankie Fox and Desiree Parker and is targeting to reach annual sales of GBP1m in 2019. The company makes a range of beetroot ketchup that use 100% natural ingredients, are free from gluten, yeast, and high fructose corn syrup. They are also non-GMO and suitable for vegans. Mayonnaise products are also in the pipeline.
Listings including Sainsbury's, Waitrose, online retailer Ocado and delicatessens and convenience stores across the UK. Unit sales have increased from 50,000 to 200,000 since the company's launch.
And last year, the Essex-based firm won its first listing in the US with Whole Foods Market, and also secured a deal with Carrefour in Dubai. It also set up a distribution network across Germany, Denmark and the Czech Republic.
By 2019, co-founder Parker said she expects the business to export 40% of its products overseas.
"The North American market is tough and it's complex, you need to be persistent," she said. "This is a key focus for our company and will be the driver of significant revenue growth going forward. Whole Foods has been the perfect starting point for us, and with further investment we have the opportunity to build brand awareness and to expand our reach to another 5,000 natural food stores."
The Foraging Fox will roll out its first range of Mayonnaise in Ocado on 5 September in three flavours: Coconut, Chilli & Lime Mayo; Avocado & Lemon Mayo; and Smoked Garlic Mayo.
It will also launch products targeted at the foodservice sector in the UK and Europe later in the year aimed at pubs, burger restaurants and first-class lounges.
"This is an exciting time for challenger brands like The Foraging Fox," Parker added. "The categories we participate in have been in dire need of a shake up and consumers have been leading the charge here. There's a fast-growing segment of consumers who want products like ours: better quality ingredients, better taste and better for them.
"This investment will allow us to build out our team and fund key marketing initiatives as we continue to grow our brand presence in the UK and internationally."