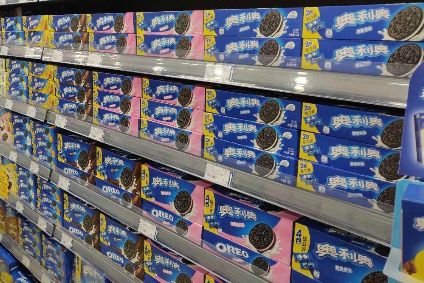 Mondelez International expects to hit its target for annual sales growth in 2021 for the third straight year, with the US snacks giant predicting continued growth in biscuits and chocolate to offset a gum market still hit by Covid-related pressures on mobility.
The Cadbury and Oreo owner aims for its net revenue to rise by at least 3% on an organic basis each year. In 2020, the company saw its net revenue rise 3.7% on that basis, translating to a 2.8% increase on a reported basis to US$26.58bn.
Speaking to analysts yesterday (28 February) after the publication of Mondelez's 2020 financial results, the Milka maker's management cautioned its growth in the first quarter of 2021 would be slower than a year earlier but said it expects to again hit its annual growth target. In the first quarter of 2020, revenues increased 2.6% and were up 6.4% in organic terms.
"We usually do not provide quarterly guidance but, given Q1 last year was the strongest quarter, we do expect a lower growth rate in Q1 2021," Mondelez CFO Luca Zaramella said. "We expect an on-algorithm year in terms of our financial outlook. We expect organic net revenue growth of 3%-plus. Biscuits and chocolate from what we see today should continue to do well in 2021 but we will be lapping some elevated growth in 2020 particularly in developed markets and for biscuits. On the flip side, there should be some recovery of the categories in countries mostly impacted by Covid. We have been prudent in our assumptions, mostly for gum as we expect that category to recover more slowly."
Mondelez CEO Dirk Van de Put set out what he expected to be the "tailwinds" and "headwinds" facing the Ritz crackers owner in 2021.
"If I break it down, the tailwinds that we see are, first of all, the biscuits and chocolate categories are performing very well and, on top of that, we have broad-based significant share gains. So despite lapping that in 2020, we believe the categories will continue to perform well and that we will still continue to gain market share. The second tailwind I would mention is that we have very solid momentum going into '21. Our H2 growth rate was above 3% and so we see that continuing," Van de Put said.
"In H2, we also invested quite heavily, that would be the third tailwind for me, with a big step up in working media. We are going to continue to do that in 2021, so that should also give us a push. And, then, we can't neglect that we will be lapping a weak year in gum and candy, in world travel retail and some of the smaller emerging markets, so we believe that that will help us also."
The Mondelez chief called out the gum category and markets in Latin America as challenges facing the business in terms of growth.
"As it relates to headwinds that we will see, I would separate them in geographies, channels and categories. To start with the categories, for us, it's about the gum category and how fast that category will come back. It's largely based on mobility of the consumers, we haven't seen much movement in the second half of the year, so we are not assuming that there will be a big movement in the first half of next year or this year, sorry, so we want to plan prudently there," he said.
"As it relates to channels, it's about world travel retail and on-the-go consumption. And for the time being, we've also assumed that in the first half of the year that is not going to come back at a very high rate. And in geographies, we feel that the BRIC markets and other larger emerging markets are performing well and we see them quite nicely coming back in Q4, but there are some smaller markets like Mexico, LatAm, north Africa, where we will likely be challenged for a while longer largely because they have a big gum business."
Mondelez's organic net revenue in Latin America fell by almost 18% in 2020. The company eked out growth of 0.2% in the fourth quarter, as price increases offset a near-8% fall in volumes. Zaramella pointed to "the weakness of the gum and candy market".
In Europe, where Mondelez is facing EU claims of possible price-fixing, organic net revenues were up 2.5% for the year and 3% during the fourth quarter. Zaramella said the company had "delivered strong Q4 in both chocolate and biscuits, consistent with Q3" in the region.
In North America, the group's organic net revenue grew 8.6% in 2020, with a 4.5% increase in the final three months of the year. The Mondelez finance chief pointed to "elevated biscuit consumption".
Overall, Mondelez said it had enjoyed "record share gains" in 2020, without providing specific figures. "For the year, we had gained share in 80% of our revenue base, up from 75% last year. Our largest categories delivered strongly as we had gained share in 90% of our biscuits revenue base and 80% of our chocolate revenue base, Zaramella said," pointing to biscuits in the US, China and Russia, as well as chocolate in the UK, Russia again and Australia.
However, Van de Put said the company's share gains were not expected to be of the same size as in 2020. "As it relates to organic sales growth and share gains, we are planning to continue share gains, but not to the magnitude that we've seen in 2020," he said. "We don't communicate on the magnitude, we just give the countries where we have gained or increase our market share, but we expect that the share gain will be of a lesser magnitude, I can tell you that, and I think it's a reasonable assumption."