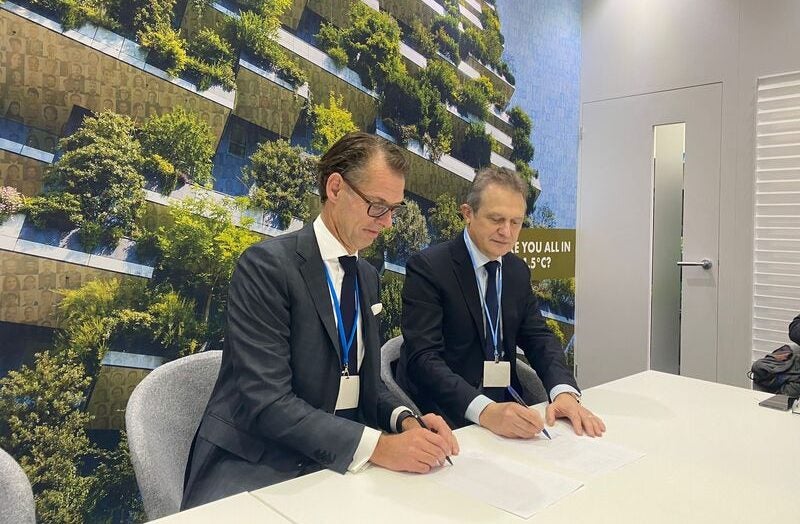 Global meat giant JBS is to use a feed supplement developed by Dutch ingredients business DSM to try to cut the methane produced by cows.
The supplement, marketed under the Bovaer trademark, is added to animal feed. A study in Australia shows, the companies claim, the supplement has "the potential to reduce up to 90% of enteric methane emissions".
Gilberto Tomazoni, JBS's global CEO, said: "We are developing a major action plan to reduce the company's entire carbon footprint, and this partnership with DSM will contribute not only to our plans but for the whole sector in this complex issue of methane emissions."
The world's largest meat and dairy companies are coming under scrutiny over the methane emissions from their supply chains.
Last week, campaign group The Changing Markets Foundation said the major players in meat and dairy needed to step up their efforts as part of the global fight to limit climate change.
"While many public debates and policy actions concentrate on reducing carbon dioxide, the rapidly shrinking time frames for action mean that we also must focus intensely on methane, which is a more potent GHG over the short term," the group said as it unveiled its Blindspot report. "A rapid reduction in methane emissions may provide opportunities to slow the rate of warming, allowing a window for more fundamental changes in society to take place."
The report highlighted 20 of the world's biggest meat and dairy companies, ranking the businesses on tackling emissions.
"The analysis shows a lack of leadership and commitment on the part of the world's largest dairy and meat companies. Without prompt and radical commitments from key methane emitters, emissions from livestock will put pledges to keep temperature rises below 1.5°C by 2030 in jeopardy," the NGO added.
In response, JBS said it is aiming for net zero greenhouse gas emissions by 2040 and is "working on defining clear KPIs for our decarbonisation strategy". It added the company cut Scope 1 and 2 emissions globally by 19% from 2017 to 2020, and 9.2% for its South American operations in the five years to 2020.
The company said: "A Scope 3 emissions assessment plan is under construction, which will include the analysis of all sources of emissions in the beef value chain in Brazil.
This includes deforestation and land use, enteric emissions from livestock production and pasture quality, including assessment of soil carbon fixation.
"As for the specific issue of methane transfers from the bovine chain, it is a sectorial challenge, in which there is still a lot of misinformation and a lack of conclusive studies. JBS is already working on several fronts to mitigate this."
COP26 – "Transformative" food system needed to curb methane emissions – campaign group