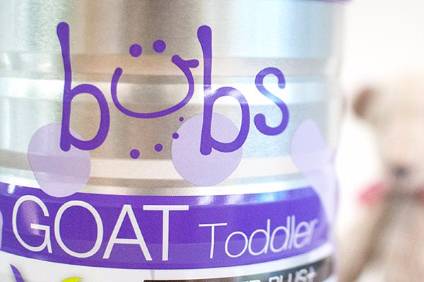 Bubs Australia said it has boosted production capacity and increased shift rotas to meet a rise in demand for infant formula as a result of the coronavirus outbreak and is also building inventories to cater to any further "surges" in orders.
The Sydney-listed business, which specialises in goat's milk formula, said today (18 March) much of the increase in demand is coming from its home market as mothers rush to secure supplies of essential baby products. Domestic sales accounted for about 70% of Bubs' revenue in the first half, it said in a statement.
"The company has put in place measures to sustain continued security of its supply chain across Bubs' Goat Milk formula and Bubs' Organic Cow Milk formula to meet increased demand from parents anxious to secure supplies of infant-milk formula, as well as building inventory to ensure steady future supply to quickly respond to further demand surges," the statement read.
Founder and chief executive Kristy Carr added: "We have greatly increased our capacity and are working to expand our inventory cover and meet the supply needs of our retail partners across both goat milk and organic grass-fed cow's milk-based formula, moving to two shifts per day, with capacity to move to three shifts if required.

"As always, our first concern is for the health and safety of the Bubs family. For our Bubs corporate office, we have implemented arrangements to underpin business continuity and the continued health and well-being of our people to the greatest extent possible in these testing times."
Carr said the company had been working with its retail customers in Australia, namely Coles, Woolworths, Big W and Chemist Warehouse, to "ensure distribution and continued supply of the newly introduced Bubs Organic 365 days Grass Fed Infant Formula range, as well as our existing Bubs Australian Goat Milk infant formula range".
There has been no disruption to the supply of raw materials, the company added.