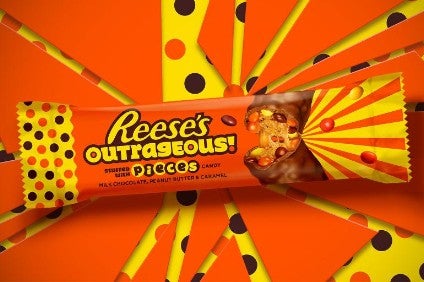 Confectionery firm Hershey has withdrawn its financial guidance for the year because chief executive Michele Buck said it has become increasingly difficult to predict the coronavirus impact on the US business.
The Reeses's owner made the announcement today (23 April) in conjunction with its first-quarter results, which showed an increase in top-line sales but an 11% decline in net income.
"The length and severity of the pandemic and associated changes to consumer behaviours remain uncertain," the New York-listed company said. "Due to the rapidly-evolving situation and the high degree of uncertainty, the company does not believe that it can estimate the full financial impacts with reasonable accuracy, and therefore believes it is prudent to withdraw fiscal 2020 full-year guidance."
While Hershey noted how the first-quarter performance was "relatively in line with expectations, with a modest impact from Covid-19", it said footfall in retail and out-of-home channels had been volatile, with consumers' shopping behaviour "evolving in light of social distancing protocols".
Hershey posted reported sales of US$2.04bn, an increase of 1% and a smaller 0.5% gain in organic terms. Net income dropped to $271.1m. Adjusted earnings per share rose 2.5% on a diluted basis to $1.63.
In January, the Twizzlers and Jolly Rancher brand owner had said it expected reported sales to climb in a 2-4% range in 2020 and forecast an increase in adjusted EPS to $6.13 to $6.24.
But Hershey said today it is sticking with its long-term objective for 2-4% net sales growth and a 6% to 8% increase in EPS.
Buck said: "The situation continues to evolve rapidly and it is difficult to predict the future with much certainty. But we have more than 125 years of experience managing through challenging, fast-moving and unprecedented moments in time. We continue to focus on making the best long-term decisions for all our key stakeholders and believe this resilience will make us stronger in the days and years ahead."