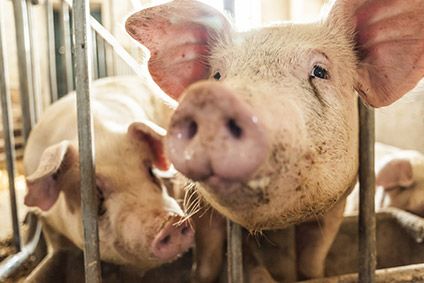 Italy's food sector is at risk of major disruption from the outbreak of coronavirus in the north of the country, national farmers' association Coldiretti has warned.
Quarantined zones created by the Italian government affect 11 municipalities located in the Po Valley, an area which extends from Lombardy to Veneto and which represents more than one-third of the country's agri-food sector including supply chains of Parmigiano Reggiano and Grana Padano.
As a result, day-to-day operations in Italy's food industry risk paralysis, said a Coldiretti statement released yesterday (25 February). The production and commercial activities of over 500 farms and about 100,000 cows and pigs are located in the quarantined zones, in which the movement of goods and people has been limited and thus threaten to block adequate assistance to stables and the transport of farm workers, supplies and products like fresh milk.
"In fact, there have been several cases of dairy farmers that have been blocked at the checkpoints and were forced to move away, although they possessed documents attesting to their work on livestock farms and their products in the quarantined zone," Coldiretti claimed. The association is working with authorities to guarantee the movement of workers engaged in the processing of perishable products in industries and cooperatives neighbouring agri-foodstuffs.
Italy's food industry will also suffer from the preventative measures being issued by other countries, Coldiretti has argued, following a decision by Romania's Health Ministry to order a 14-day quarantine to all temporarily harvest and farm workers who have returned to Romania either by car or plane in the last two weeks from Italy's Lombardy and Veneto regions. A quarter of harvest workers in Italy are foreign, says Coldiretti, with the largest number, over 100,000, coming from Romania in 2019.
Regarding exports, Italy's Agricultural Minster Teresa Bellanova spoke yesterday about the risk of border blocks and speculative price increases on food imports. "Some European large-scale distribution chains which, instrumentally, have asked for additional guarantees on the safety of foods from Italy has meant that, from the start of the crisis, many Italian agri-food products have been blocked at the border; at the same time, there have been speculations on the prices of food products and raw ingredients," Bellanova said, adding: "We are committed at all levels to avoiding the blockade of exports of Italian products. It is a form of unfair competition, which must be condemned and which must be immediately stopped."
Food retail is also under pressure. In Milan, supermarkets were overwhelmed by panicked Italians on Sunday stocking up on food necessities such as fresh vegetables, canned foods, pasta and flour. It followed news of the restrictive measures that were to be placed on most parts of the Lombardy region because of a Covid-19 outbreak, the largest of which just 60 km from Milan, in the town of Codogno.
While there is no risk of food shortages at supermarkets in Italy's north, the Agricultural Ministry has confirmed, uncertainty remains over when the restrictive measures in Milan and across Lombardy might be lifted.
At the time of writing, there are at least 374 cases of coronavirus and 12 deaths related to the virus in Italy. Restrictive measures have been ordered in seven of the country's wealthiest regions in the north.
These regions are essential to sustaining the domestic economy as well as the country's growth projections in 2020. According to data from Italy's national statistics agency (ISTAT), the Lombardy, Veneto and Emilia Romagna regions together contributed 40.1% of the country's GDP in 2017 and represented approximately 50% of Italy's total exports.